Summer is coming. Jumpers and coats are stored away, feet are manicured and legs shaved, all signs that we're emerging from hibernation. So, I've set myself a challenge: to build a summer capsule wardrobe, only from ethical and sustainable brands.

The rules
Garments must be produced with respect to people and planet
In the name of sustainability 2nd hand / items from my wardrobe are allowed.
Underwear is exempt. I've yet to find organic nursing bras in UK stores, and you really need to be measured for these.
No compromise on style
I don't think it will be easy, but here's what I've found so far:
A Striped T
Every summer wardrobe needs a stripe T Shirt. It's a classic. I love People Tree's Blah Blah Stripe T, the slogan giving it a contemporary twist. Made from 100% organic Fairtrade certified cotton it ticks every box. People Tree are undeniably the pioneer in ethical and sustainable fashion. They use GOTS certified organic cotton and other sustainable materials and they are transparent about where their garments are made. They even have a feature where you can click to see who has made a particular item of clothing.
Black Culottes
People Tree have really upped their game for SS17 as is evident by these black culottes. They are such a great shape, and so versatile. As a mum, my wardrobe needs to accommodate running round after the kids and looking presentable for meetings. Sometimes both at the same time! These totally fit this category, they would look totally different with heels or trainers as need be. Ok so you can't see the fantastic cut in this photo, but I styled them today so soon you'll see them in their glory.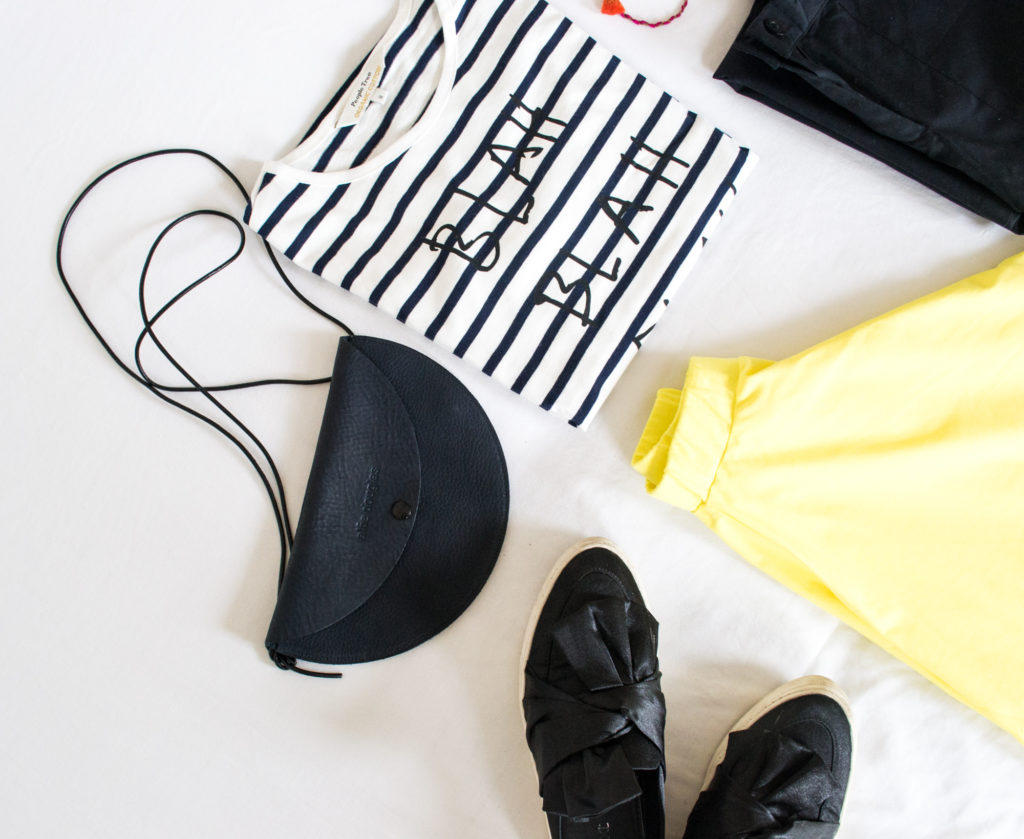 A Pop Of Colour
This bright yellow skirt is from Papu Stories' SS17 collection and I love the colour. Most of my wardrobe is monochrome, which can get dull. So, you have to surprise people with a pop of colour. It finishes just above the knee, which is as short as I'm happy to go post pregnancy! It's made in the EU from GOTS certified organic cotton. To read more about Papu Stories range including their kidswear please click here.

Tassels
These tassel lala bracelets are a little bit of fun to cheer up any outfit, and will work equally well with urban or beachwear. They're from Postcards Home, a gorgeous online boutique that sells unique homeware and gifts inspired from travel abroad. All their products are sustainably and ethically produced, and founder, Lucy Coleman, has a real commitment to supporting social enterprise. These bracelets are ethically made in India.
Bag
A Christmas present from my mum, this is my essentials only bag as it is compact in size. From family run business Alfie Douglas, all products are designed and made here in London. They practice true transparency, as you can even go and watch your bag being made.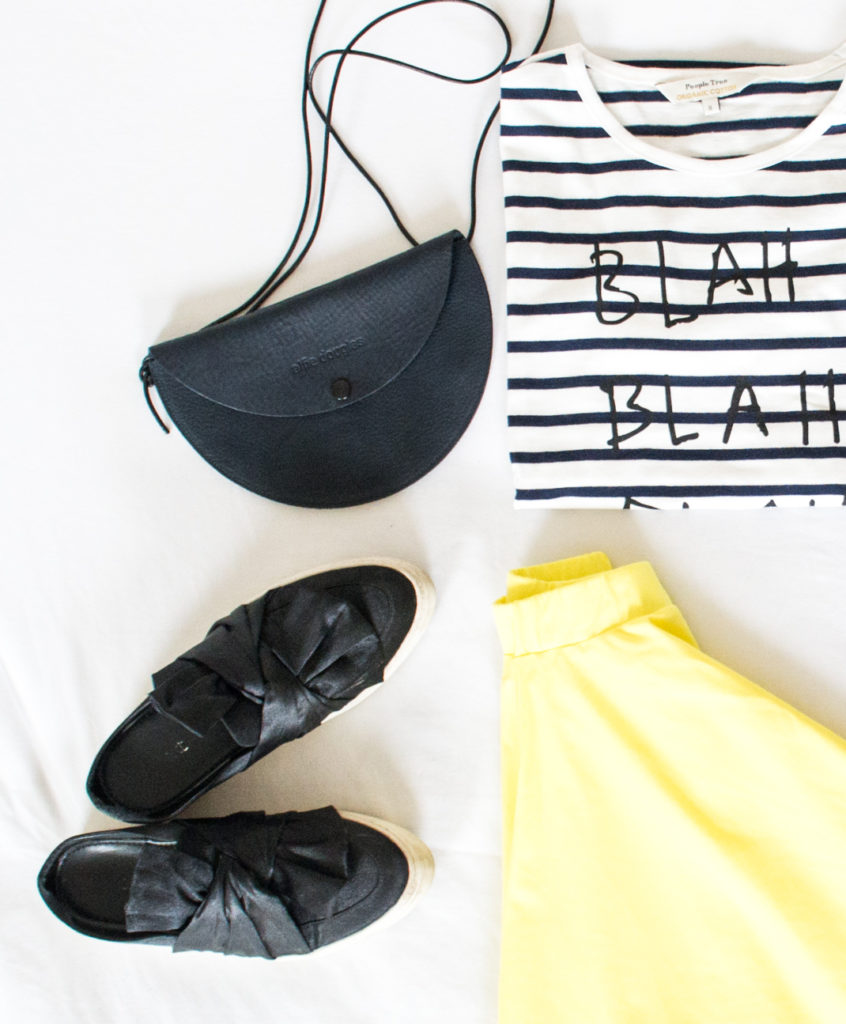 Sunglasses
The sharp eyed among you will notice that I've featured these before! These fab rose gold sunglasses are from TOMS. They've just launched this shape with a tortoiseshell rim. For every pair bought, TOMS gives the gift of sight #OneForOne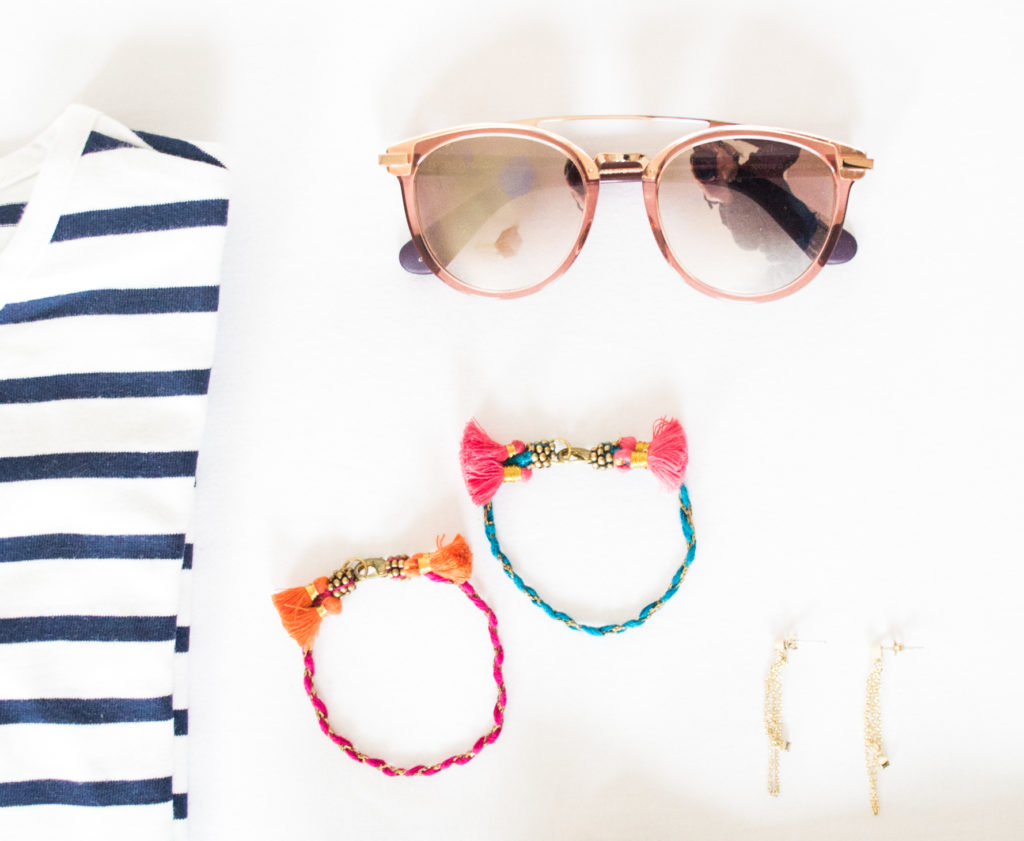 Shoes
Sustainable shoes are hard to come by. Gather & See have just launched some great espadrilles from Jutelaune & TOMS have their new Deconstructed Alpargatas, which are essentially a well crafted espadrille. Unfortunately I only discovered these after I wrote this post! These trainers are from Next, which last time I checked weren't committed to sustainability. I live in hope big business will lead the way in putting people & planet over profit.
Shop My Wardrobe
_______________________________________________________________________________________________________
Blah Blah Stripe T *| People Tree
Tassel Bracelets* | Postcards Home
_______________________________________________________________________________________________________