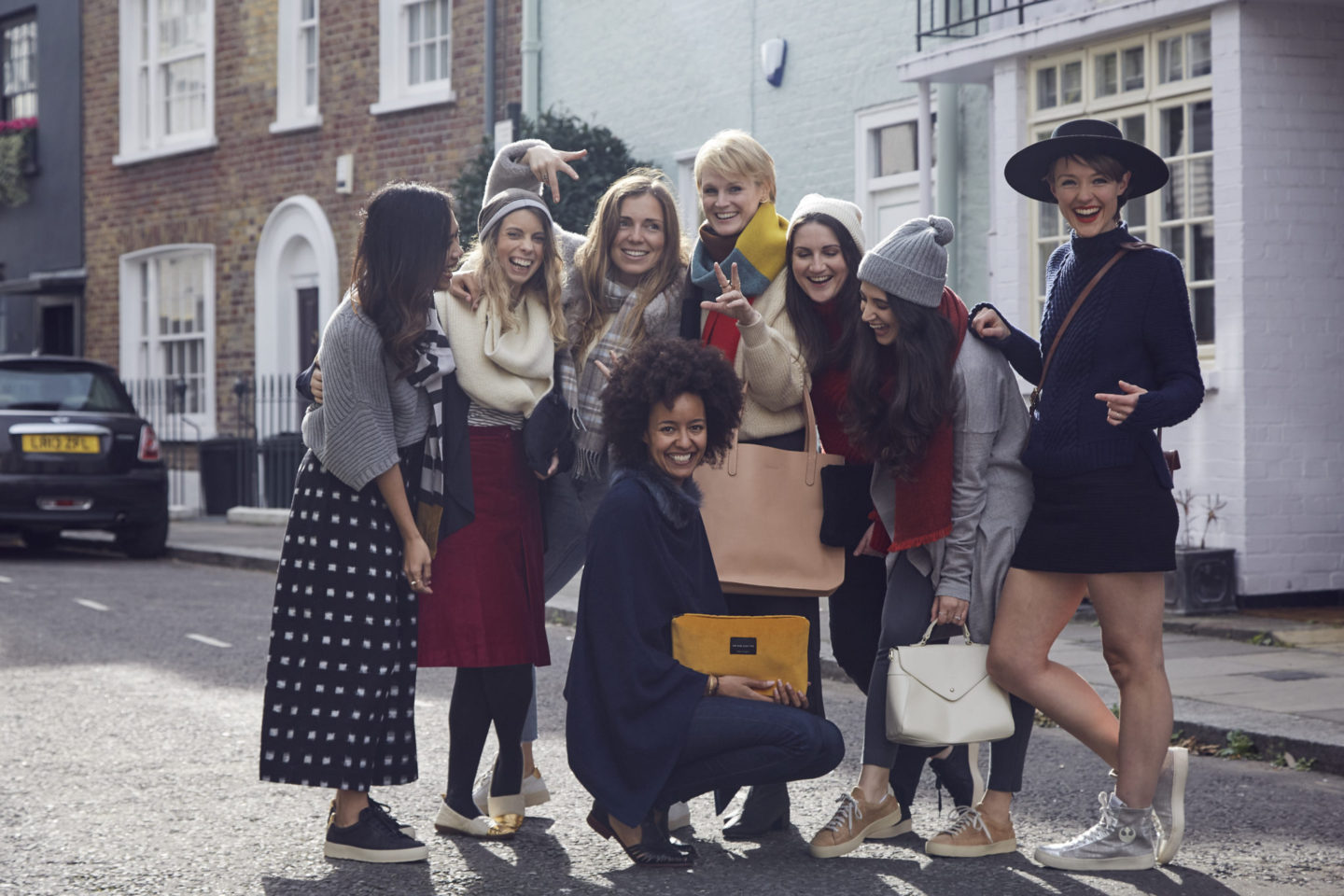 The count down is on, it's just 32 sleeps to go. Yes the big 'C' word, Christmas! And if you're like me, you probably haven't even given it a moments thought. Well don't worry, I have a series of posts coming out to help. This first post is all about ethical and sustainable style. Everything from cosy Christmas knits, through to party pieces from the very best ethical brands. It's your very own personal ethical Christmas Lookbook.
Now Christmas is great time to choose to buy ethically. With peace on earth and goodwill to all, paying someone a fair wage just makes sense. Also, it's a time of year when you want to wear something that extra bit special. Plus we've got some lovely discounts so do read on.
So I've teamed up with a group of ethical and sustainable bloggers to bring you the very best of ethical Christmas style. Let me introduce you, from the left in the photo above there's Jella from Jella Jornales, Francesca from Ethical Unicorn, Holly from Leotie Lovely, (me), Jen from The Sustainable Edit, Nataly from Literally Nataly, Kate from EcoBoost and in front Katie from Saiint Sisters.
The Ethical Brands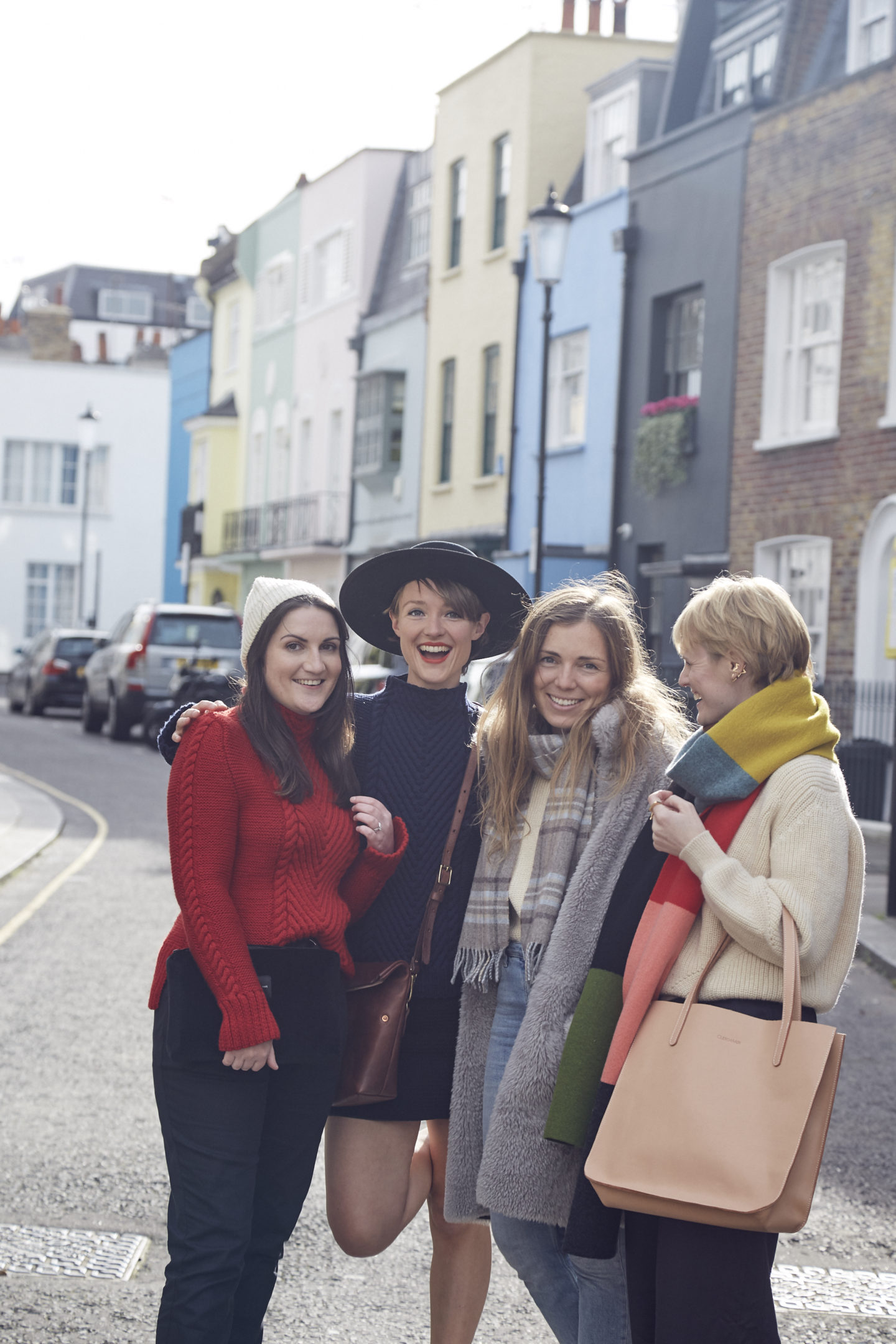 Ally Bee
In the above photo we are all wearing Ally Bee Knits, and Jen even has an Ally Bee hat on. Ally Bee creates her knits with a clear cradle-to-cradle story in mind. Each collection has a set of environmental standards that go beyond mere compliance. She's constantly questioning the status quo for ethical and sustainable production. Ally Bee seeks out natural fibres and produces ethically from farmer to shop floor, choosing high-quality fibre cashmere, alpaca and wool yarns produced to high standards of land management while protecting animal welfare. Her creations are intended to be a keepsake, created to last a lifetime.
If you'd like to know more about Ally Bee and what cradle to cradle means, please click here to read my latest blog post.
Bourgeois Boheme
Amongst the originators of UK based Ethical and Sustainable fashion, Bourgeois Boheme has set its foundations to be more than just another vegan shoe brand. BB's founder, Alicia, is an ex-podiatrist and has used her foot care experience to enhance the quality, finish and design of her shoes, creating stylish and comfortable footwear that transcends beyond trends and seasons. Her entire collection is Vegan Society trademarked and PETA approved, created using eco-friendly and vegan materials, and ethically, setting a clear and conscious example for the industry. I am wearing a pair of their Pinatex Boots.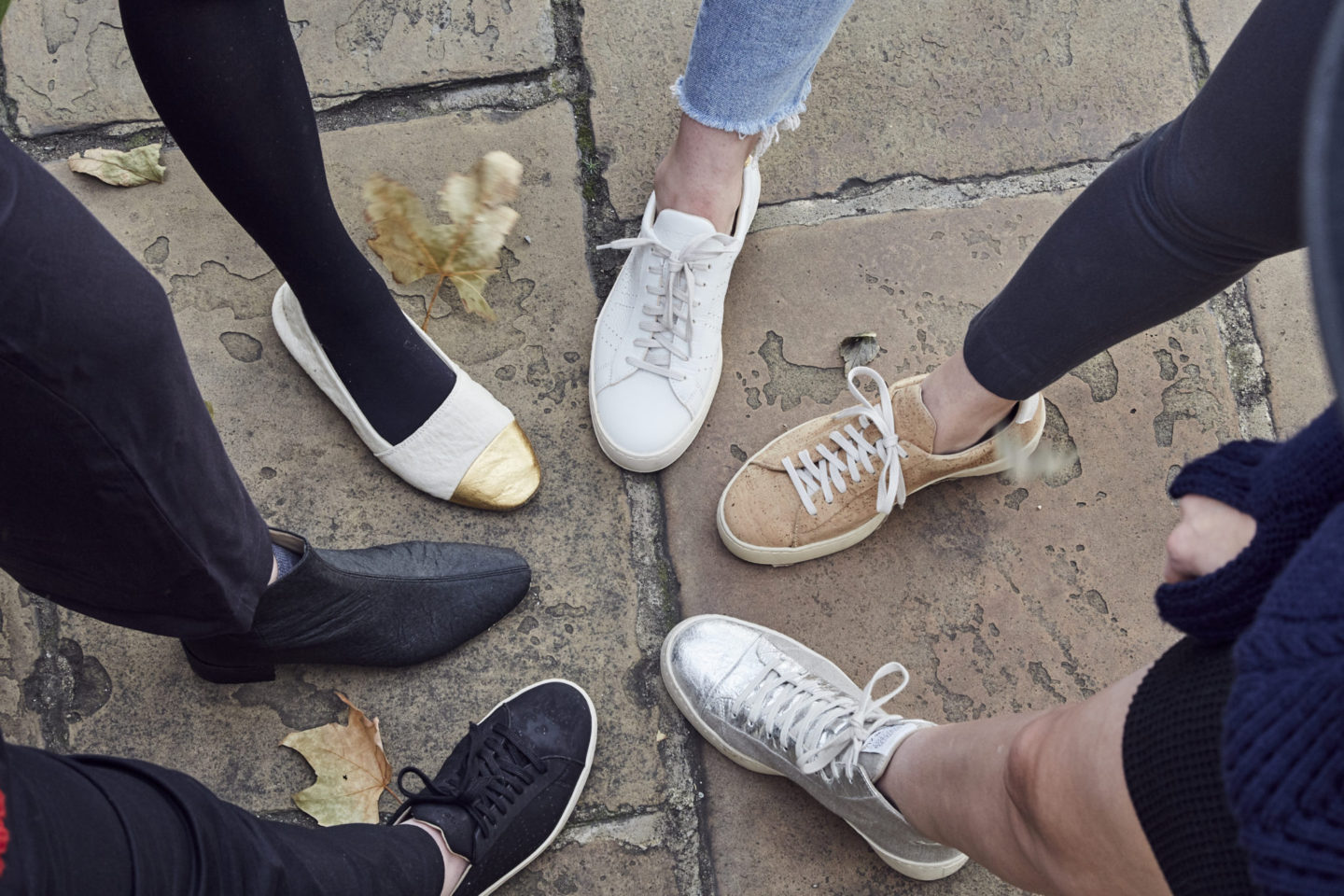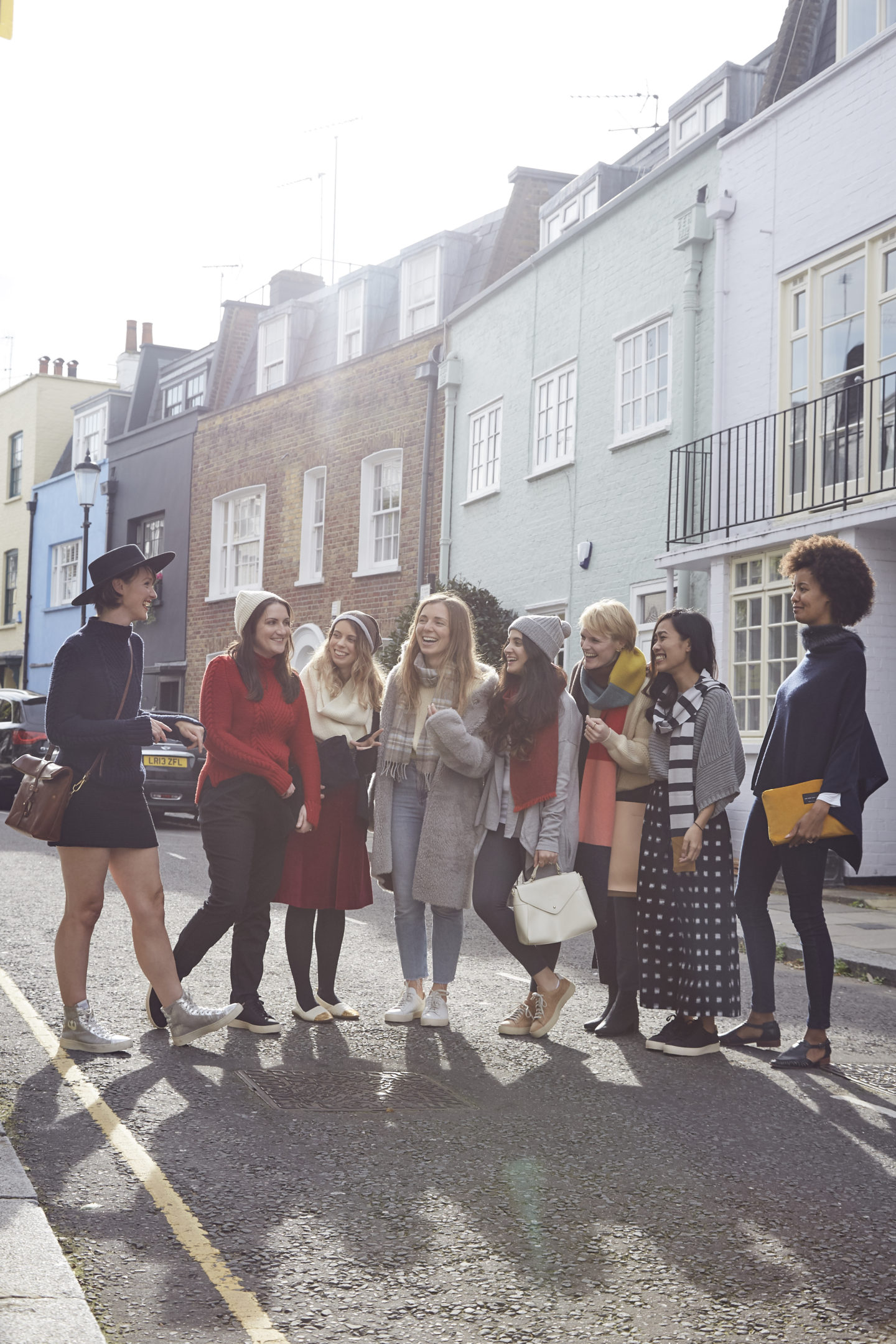 Po Zu
Po-Zu has made it their mission to challenge the trend of cheap, mass produced footwear by creating ethically made shoes using sustainable materials including GOTS certified organic cotton, British wool, coir, natural latex and pinatex. Each pair contains their unique natural foot mattress which gently adapts to fit your feet perfectly. They are super comfy and a pair of the black & gold sneakers, that Jen wears, are on my Christmas list. 
All of their shoes are made in a small factory in the historic town of Guimaraes in Portugal, employing 70 locals who are not only paid a fair wage but work in a safe, toxin-free environment free from harmful glues and solvents. Fabric off-cuts, waste and water are nearly all recycled too! As part of their ethical promise, Po-Zu pledge 10% of their net profit to three environmental charities: Pesticide Action Network, Environmental Justice Foundation and The Resurgence Trust and proudly carries the Butterfly Mark for their commitment to renewable sources of energy, protecting the environment, recycling and manufacturing locally.
For their latest collaboration collection, Po-Zu have designed a range of boots and sneakers inspired by the lead characters from Star Wars™ (under license with Lucasfilm/Disney). You can see Kate wearing the silver pair in the picture above. Love them, you will…

Thought Clothing
Thought clothing, as the name suggests, is a collection of thoughtfully made items which are both ethical and sustainable, for women and men. They use naturally grown bamboo, cotton, wool, tencel, modal and hemp, all free of harmful pesticides and chemicals and sourced responsibly. Their designs borrow from nature, and in turn somehow feel effortless to wear, and diverse enough to transcend the seasons. In my first more casual outfit I am wearing their modal flared trousers. Francesca is wearing their amazing organic velvet cotton skirt in ruby.
I recently chose my top picks from Thought Clothing's range, so please click here to see them.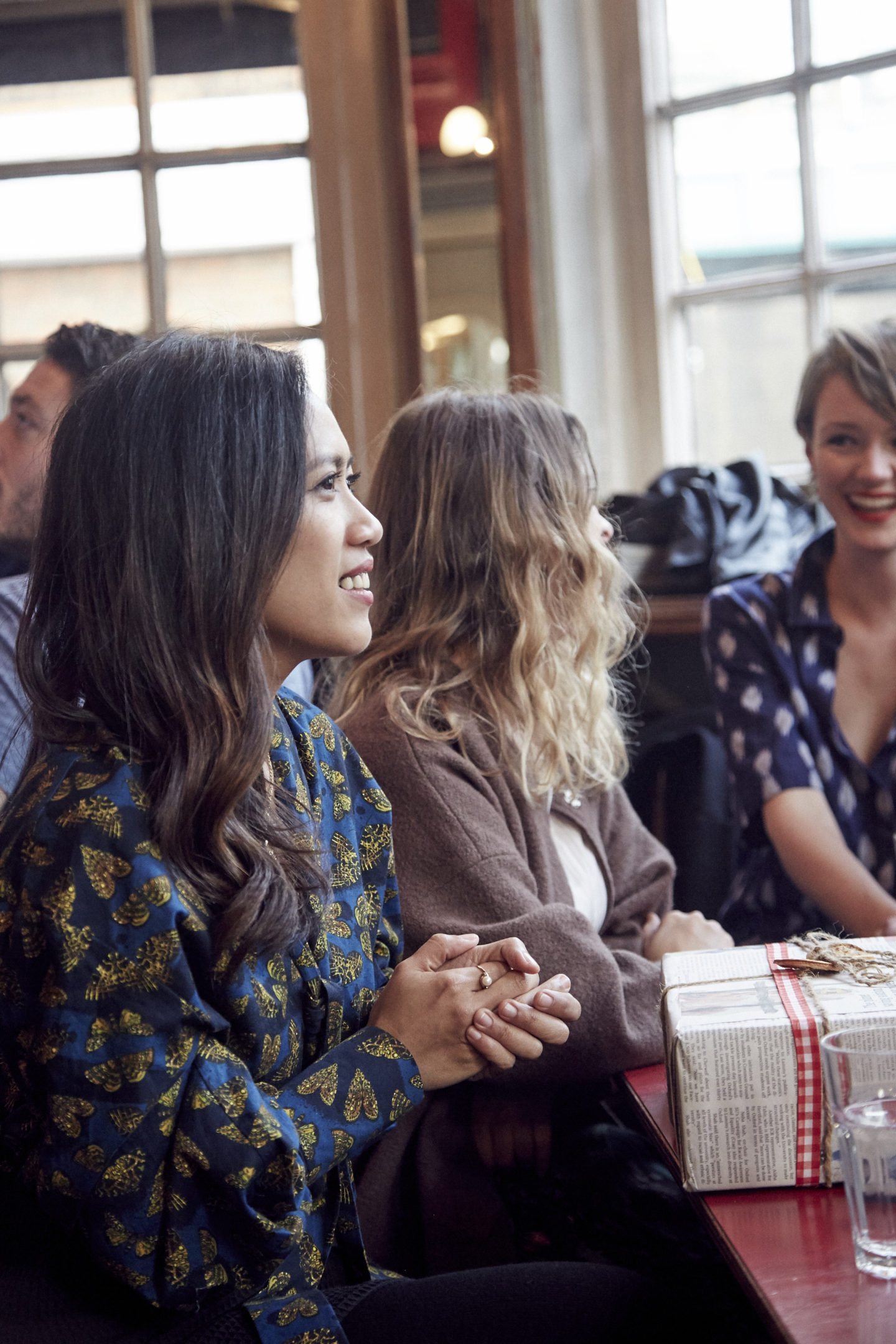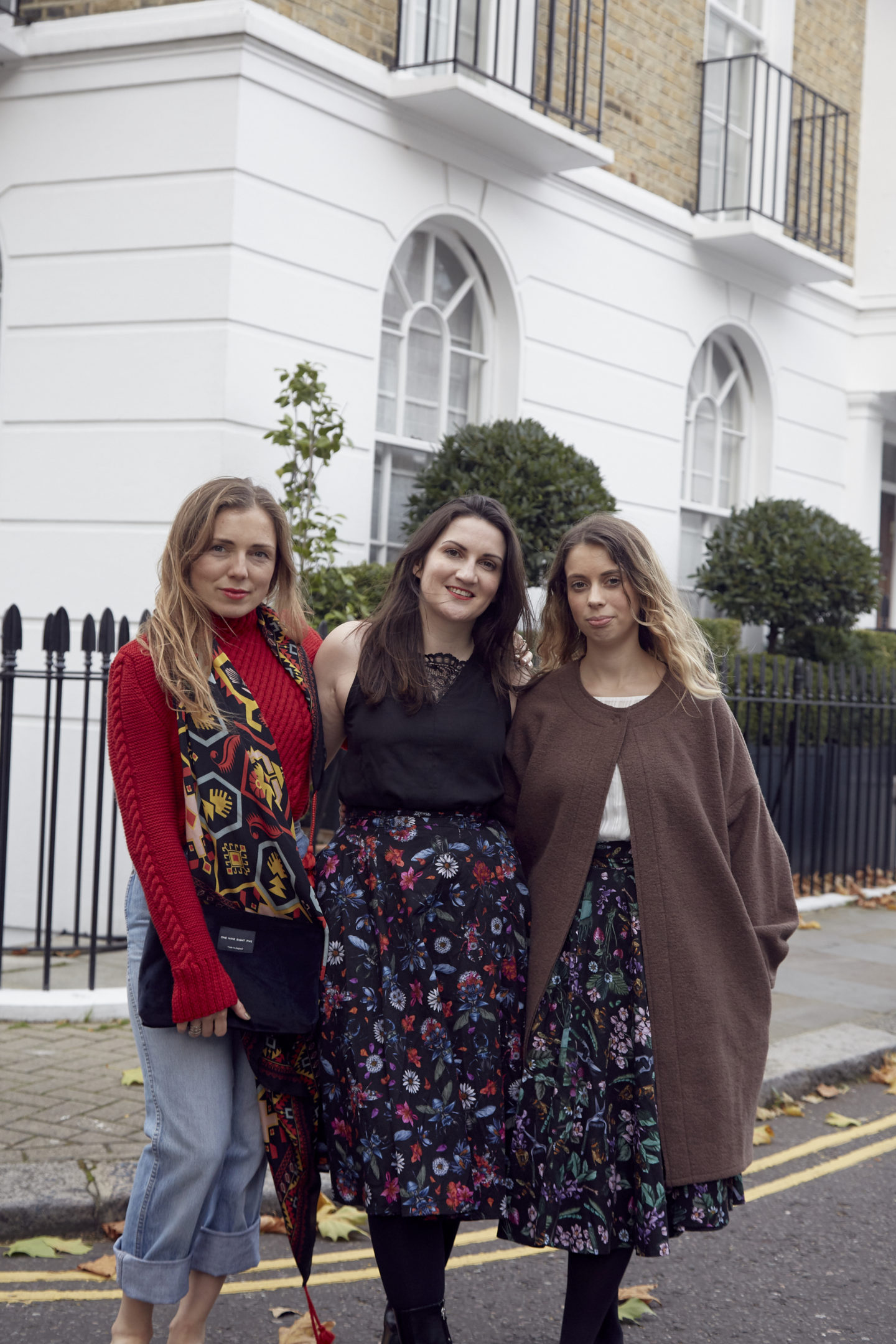 Gung Ho Design
Gung Ho Design is renowned for their eye-catching prints, versatile designs and high quality garments. Just look at the beautiful Tiger Moth blouse Jella is wearing pictured above and the skirts Jen and Fran are wearing. The unique prints connect people with environmental issues, and with each purchase Gung Ho donates to a corresponding charity working with this cause. All their garments are made from organic cotton,  hand printed in the UK, using responsible dyes. Each piece is handmade here in London. Because the garments are wrap designs, only two sizes need to be made. This reduces waste caused by creating garments in many size variations. But it also means the garment will fit you throughout any changing body shapes (!)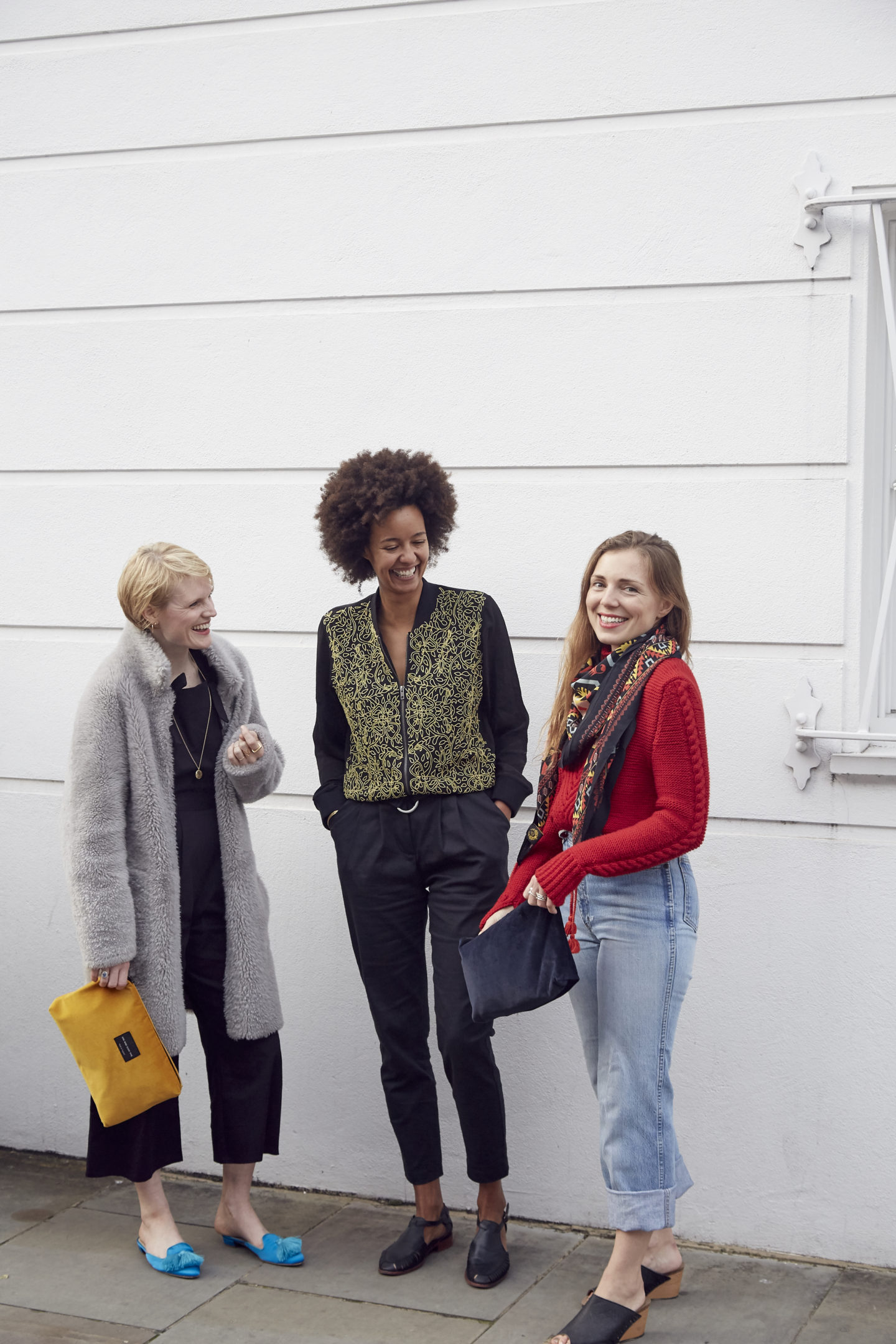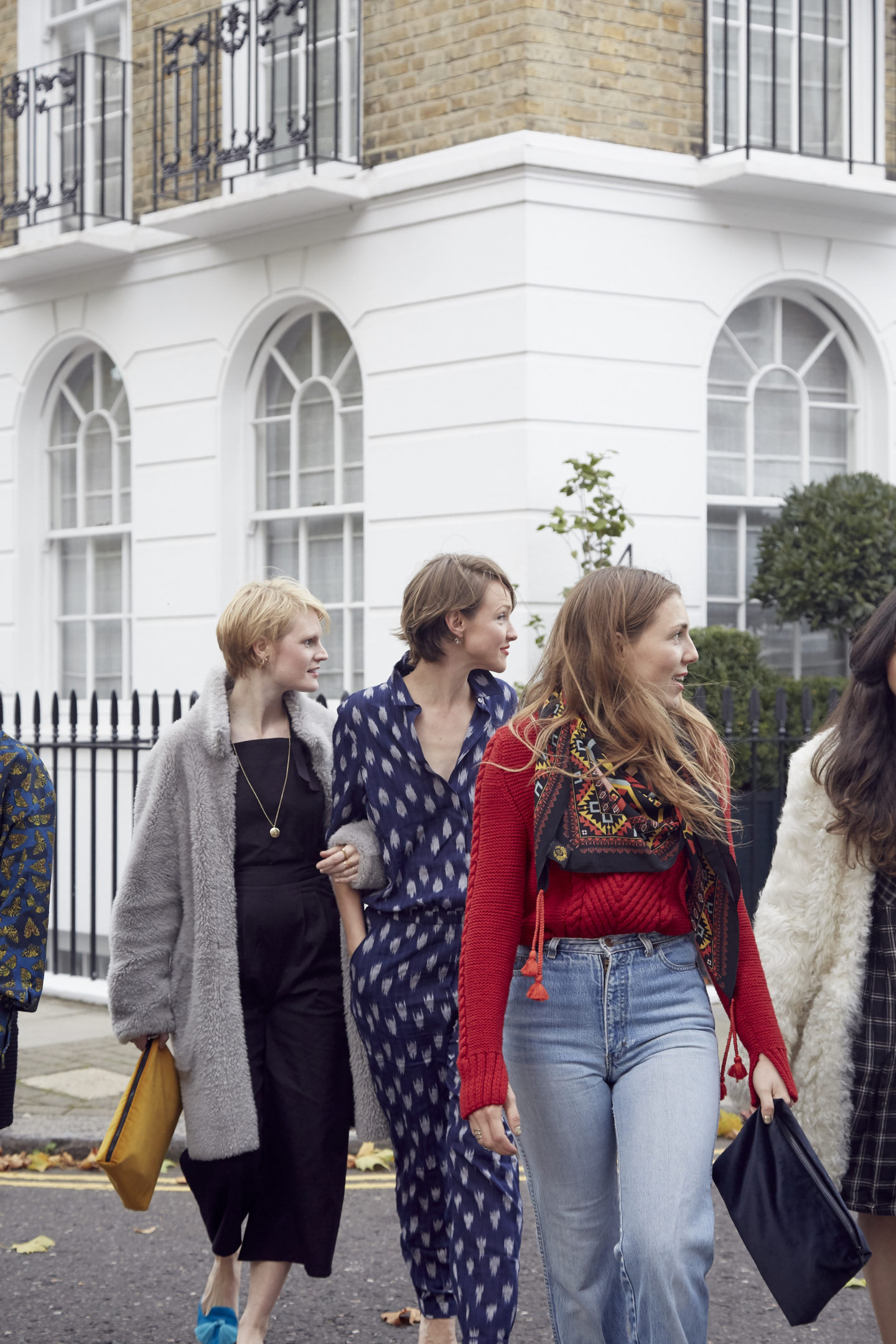 Ethical Collection
Ethical Collection is a London-based eco-luxury boutique. It brings together the finest, most unique sustainable products from artisans around the globe, in one curated collection. This collection focuses on exceptional quality, diversity and vibrancy, whilst always keeping people and the planet at the forefront of how they operate. Each piece they sell comes with both style and a story; encouraging mindfulness and connection with not only the products we buy, but with who made them and how. I love their range because they have some amazing statement pieces. Katie's jacket above is hand embroidered in gold coloured thread, and is just beautiful. Holly's scarf is by Peace Treaty and also from the Ethical Collection and is equally as stunning.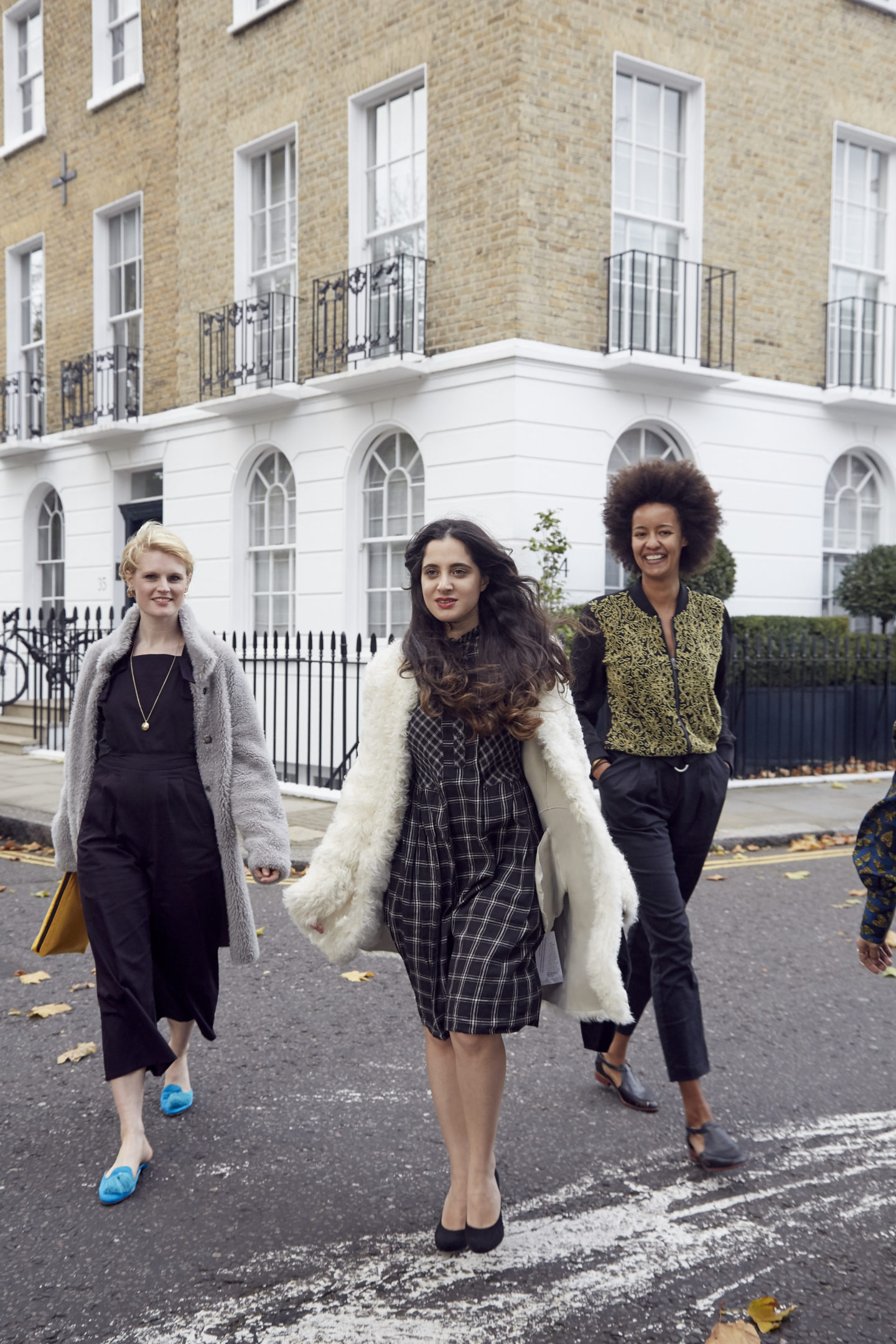 Celtic & Co
Founded 26 years ago by husband and wife team Nick and Kath Whitworth, Celtic & Co is best known for their 100% premium quality British sheepskin footwear, made by hand in their own purpose built factory in Cornwall by skilled craftspeople. Unlike other sheepskin boots which are designed to be thrown away, Celtic & Co offer a resole and repair service so you can keep your tootsies cosy for years to come without adding to the landfill.
Using hides that would otherwise go to waste, Celtic & Co invest time in creating quality yet affordable pieces that are designed to last and buck the current, destructive trend of disposable fashion. Every Celtic & Co piece is made from carefully chosen, ethically sourced, natural and organic materials, the majority of which is produced in the UK. Personally I am in love with their Reversible Sheepskin Coats,  which you can see in the picture above, Nataly wears a cream version and myself the grey. It is so warm and cosy. 
10% off  & free delivery use code N4MUMMY10 until 21st December 2017 on full price items.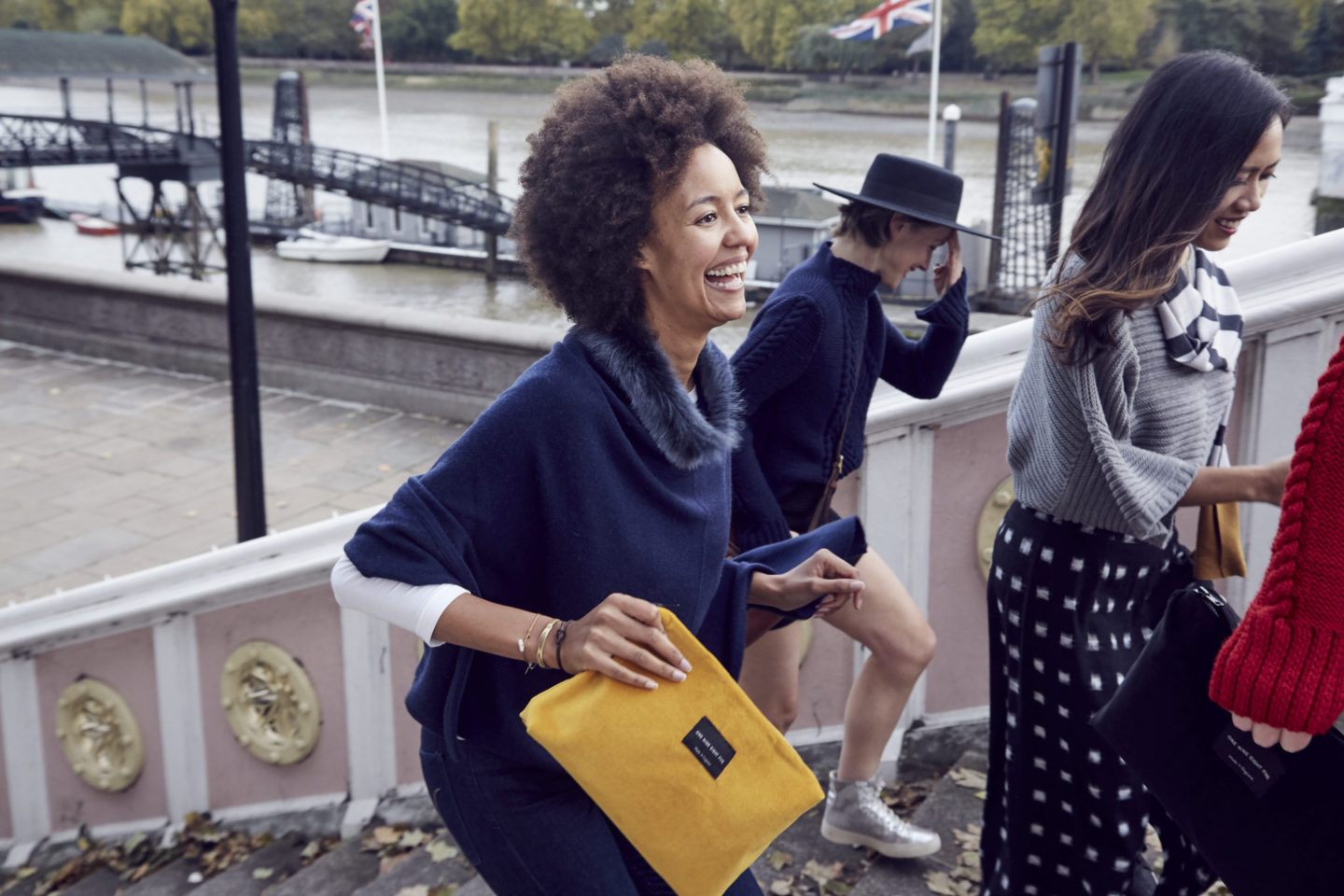 One Nine Eight Five
Established in 2016 by textile designer Eleanor Nadimi, One Nine Eight Five is a British homeware brand that specialises in print and interior textiles. Support British manufacturing, craftsmanship and sustainable processes is at the heart of One Nine Eight Five. Using ethically sourced materials wherever possible they support and celebrate the talent of British craftspeople. Every piece is designed and made in the UK, by people who take great pride in their work creating high-quality and unique products. We all loved their velvet pouches, see the photo above for it in a beautiful ochre.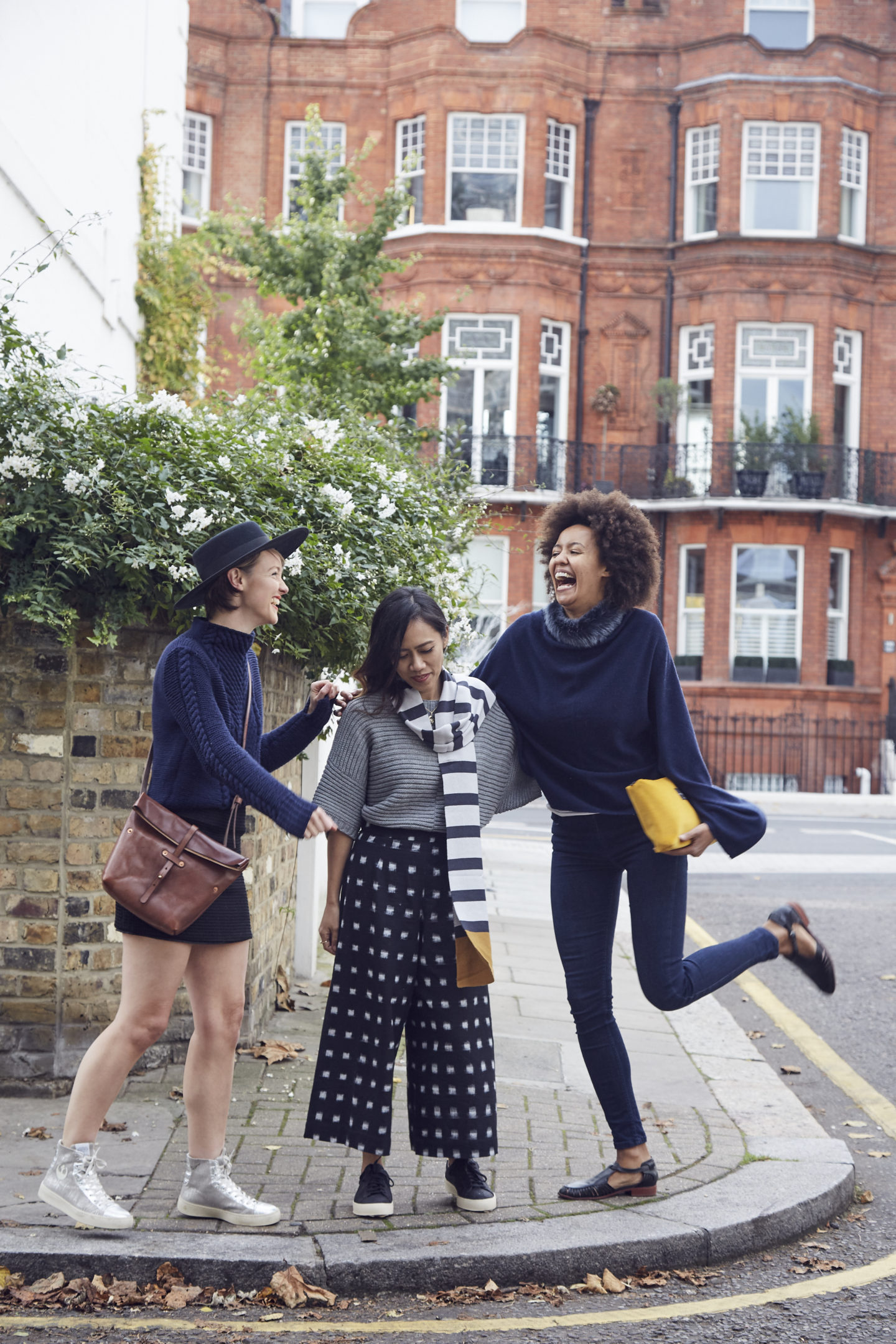 The Future Kept
The Future Kept stocks a range of well designed, high-quality and meticulously chosen homeware and gifts. Owners Jeska and Dean Hearne have carefully curated items from independent designers, makers and artisans who are creating products that are better for our world. They sell quality goods designed to be used in our day-to-day lives, everything is made to last. Moving away from the throwaway nature of modern life, The Future Kept is a place to source family heirlooms of the future. Jeska and Dean want to inspire a curiosity and desire within customers to make more sustainable and ethical choices. Kate is wearing their beautiful but oh so useful camera bag in the picture above. 
Use code ETHICAL10 for 10% discount, ends 30th November.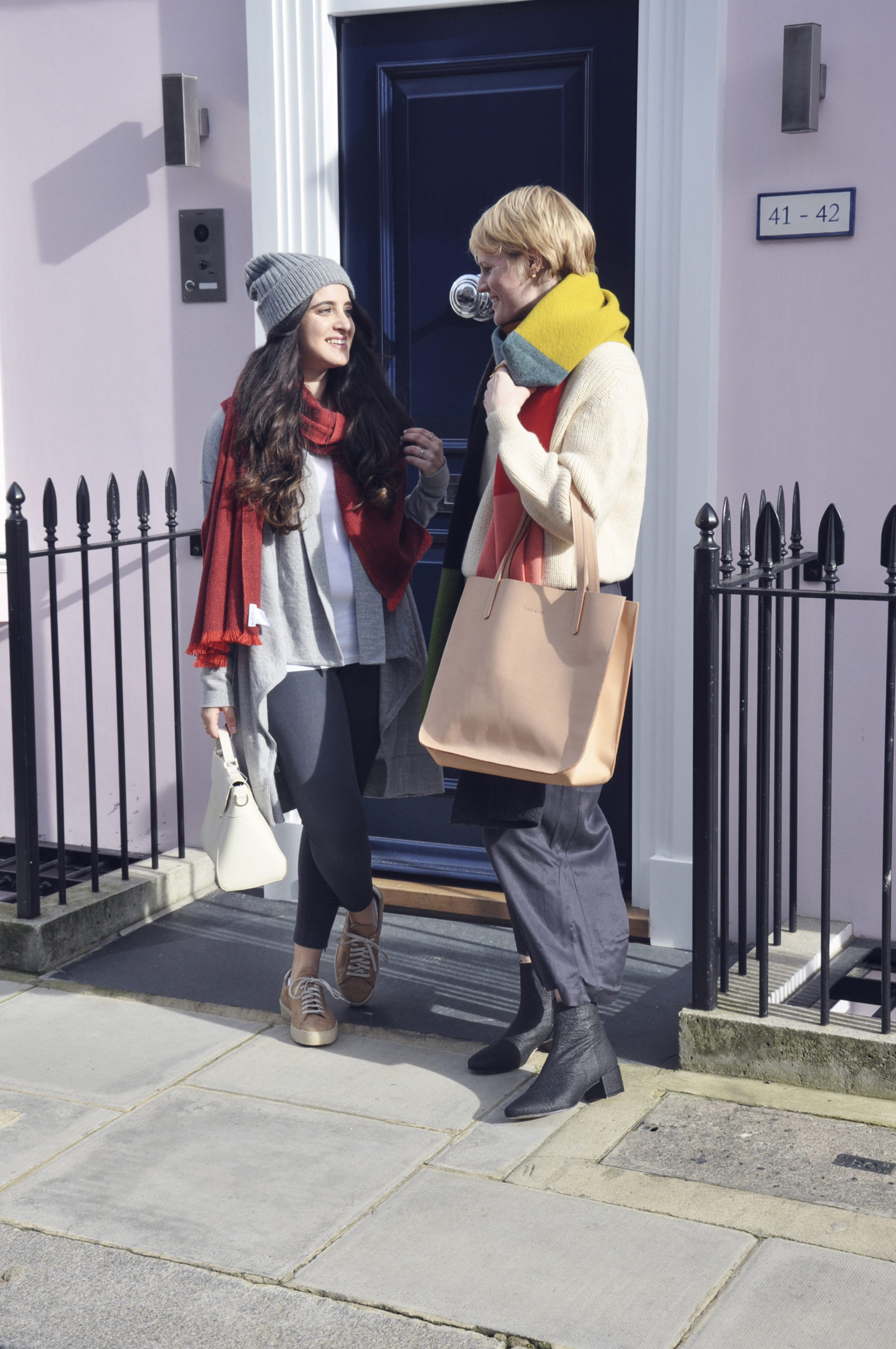 Thread Tales Co.
Thread Tales Co. is an eco-friendly luxury brand that creates beautiful iconic products made from materials with soul and sustainability, honouring traditional and cultural manufacturing techniques. The brand works with skilled artisans in Myanmar and Nepal to create hand-made scarves from natural fibres using eco-friendly dyes. Lotus, the brand's signature fabric, is an exceptionally rare, luxurious, breathable, and warm fabric that has water resistant properties. Thread Tales Co. supports artisan skills and empowers weavers, allowing them good working conditions, and the ability to work from home whilst supporting their families. Their elegant and timeless designs are a wardrobe staple for anyone who want's a scarf they can cherish for years. Nataly can be seen wearing one of their beautiful red scarves above and a cardigan from Flock By Nature whose coming up next. 
Flock By Nature
Flock By Nature is an ethical luxury knitwear brand with a focus on comfort and elegant silhouettes. They love working with natural fibres and are strong believers in their contribution to wellbeing and comfort. They also believe that natural fibres provide a certain quality and longevity that synthetic fibres do not. This brand works with the highest quality of Italian and British Merino wool and produce their garments in small quantities in both Italy and the UK, where labour rights are strong and enforced. 10% of the profit on each sale goes to the Flock Fund, a fund that donates to the following charities: Useen, Trees for Cities, and Lend with Care. Flock By Nature knits are designed for years of enjoyment with the hope that costumers wear their piece over and over again. To ensure that they offer a complimentary repair service for any minor damage that may befall the garment.
Get 15% off, use code: flockonholiday until 17th December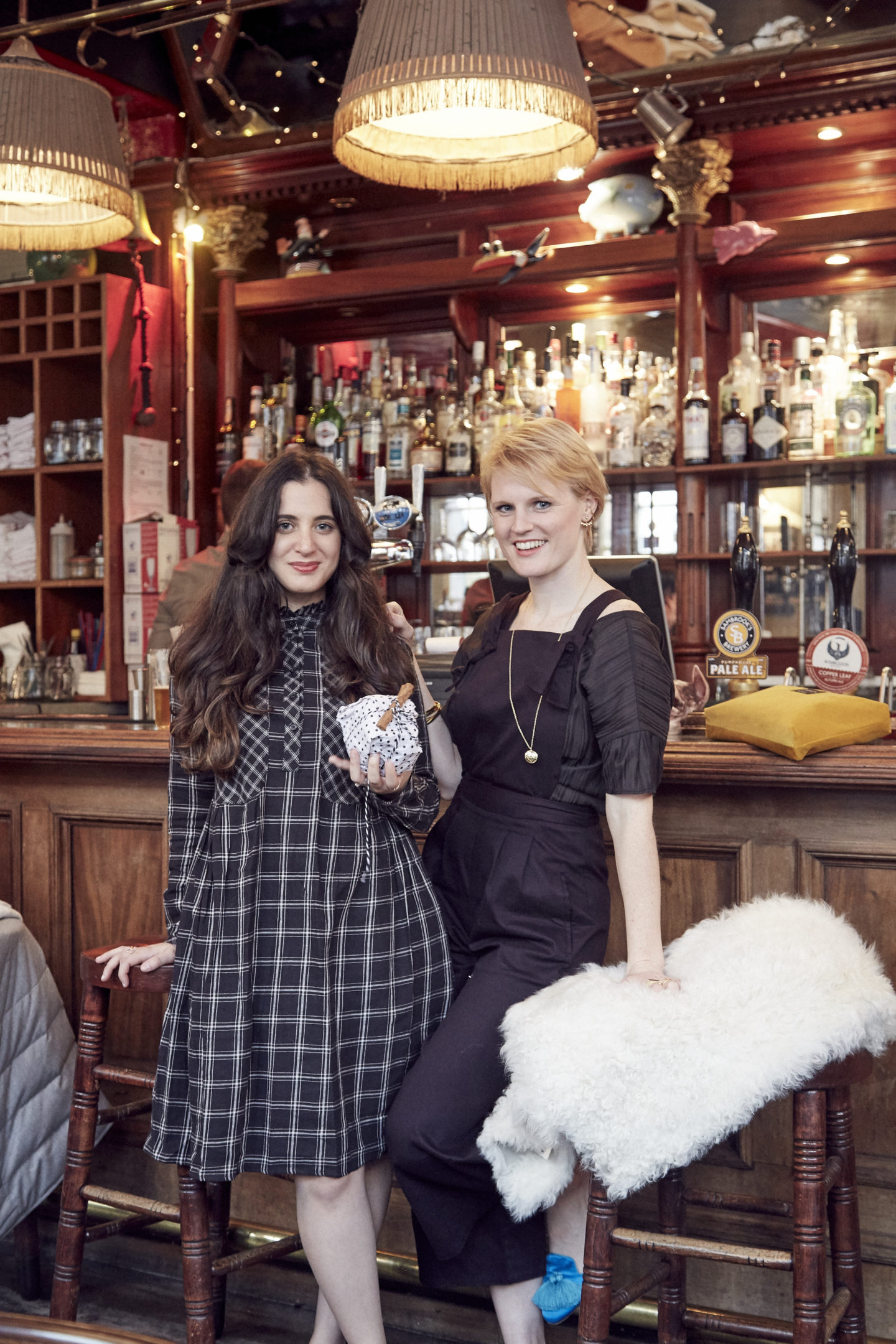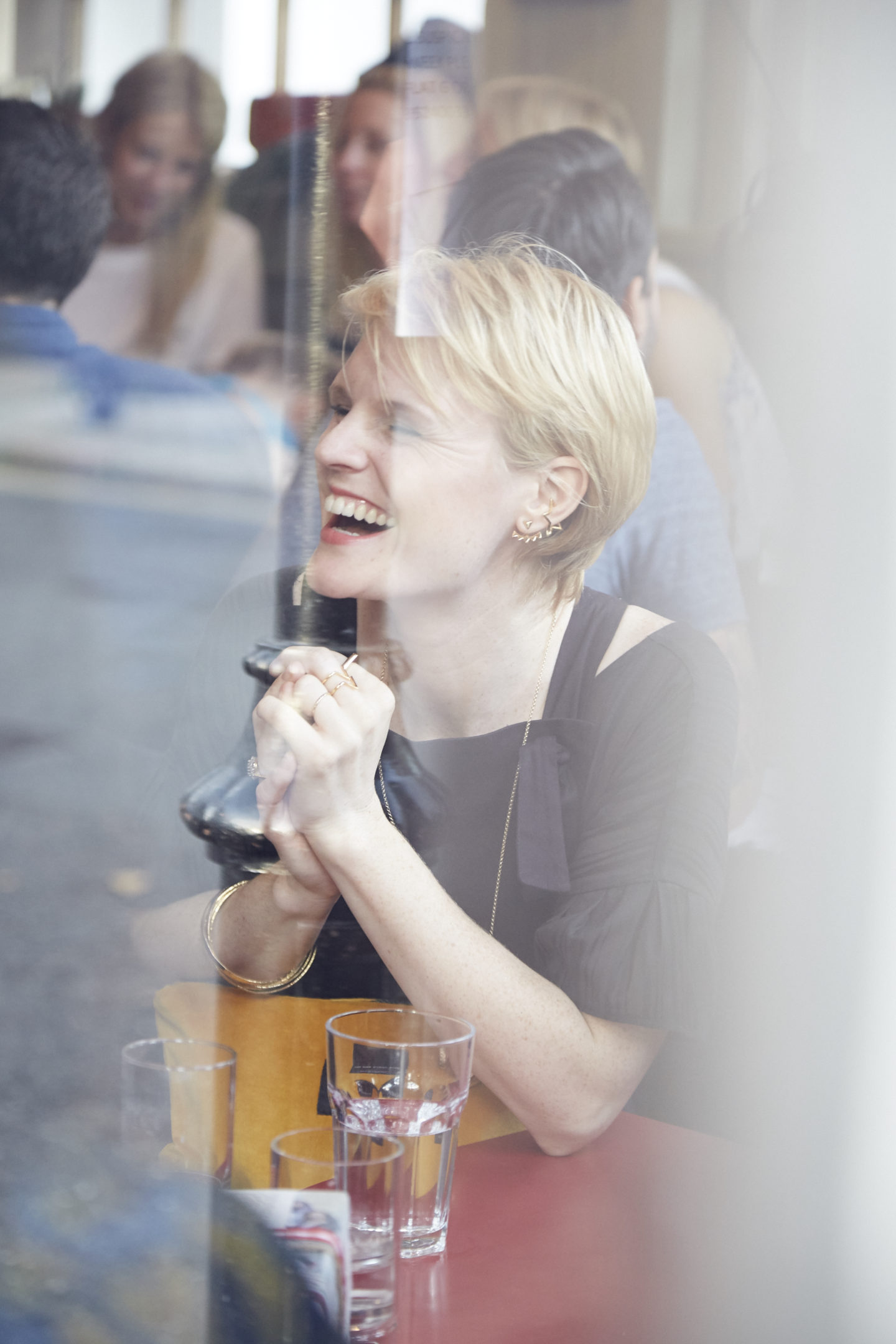 P.i.C Style
P.i.C Style, short for Partners in Crime, was born out of the obsession to "do fashion the right way." Founded by two friends, Rhoda and Sara, the concept is simple: 8 items = 50+ outfits, the perfect capsule wardrobe. Each item is cleverly designed to be multifunctional. A jumpsuit turns into a pair of culottes and a top can be worn forwards or backwards. They've kept their supply chain small and all fabrics are organic and sourced locally.
I'm wearing the Hackney Jumpsuit pictured above, which also turns into a pair of culottes. I also own their Bethnal Pinny dress, and to see this styled and the many different ways it can be worn please click here.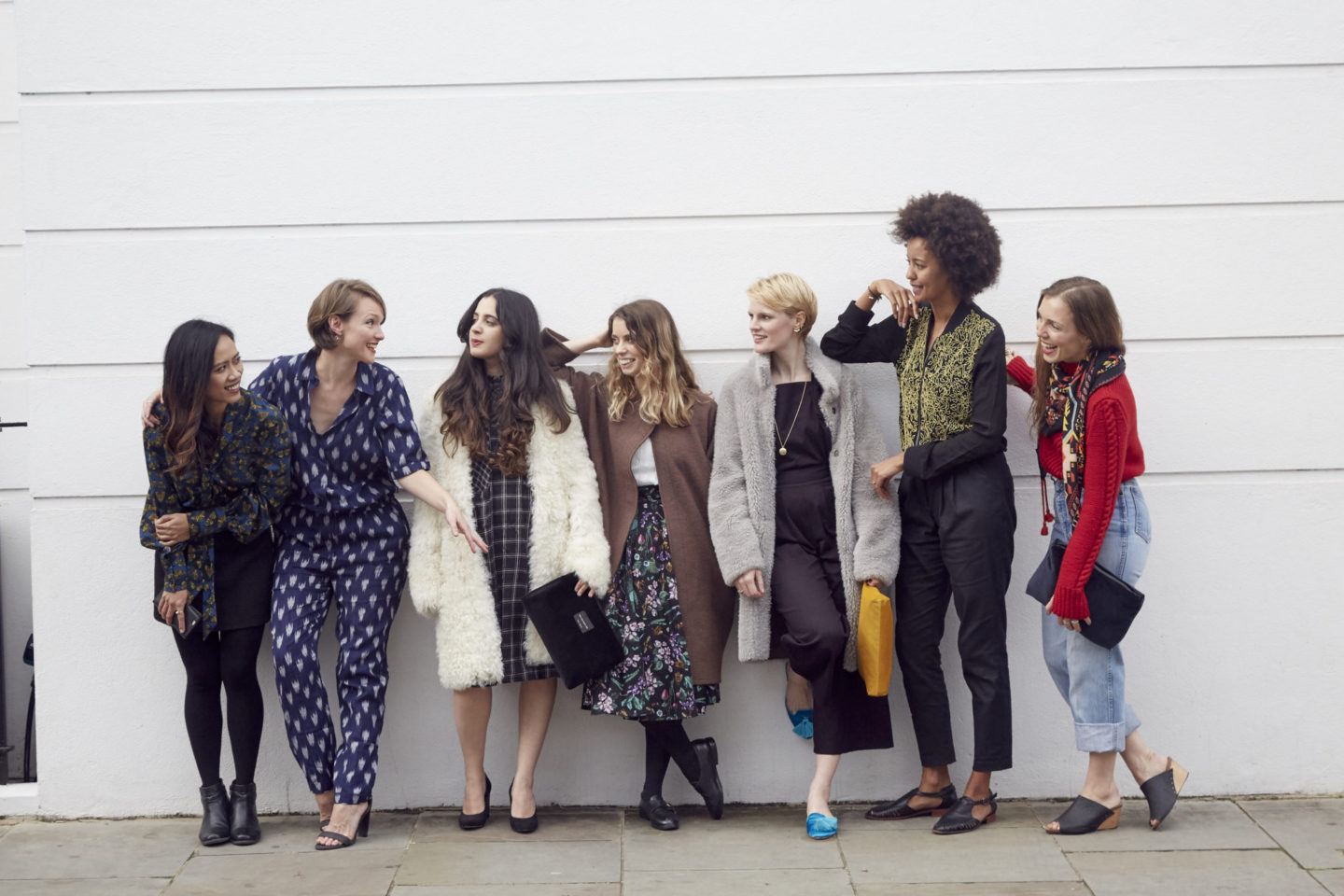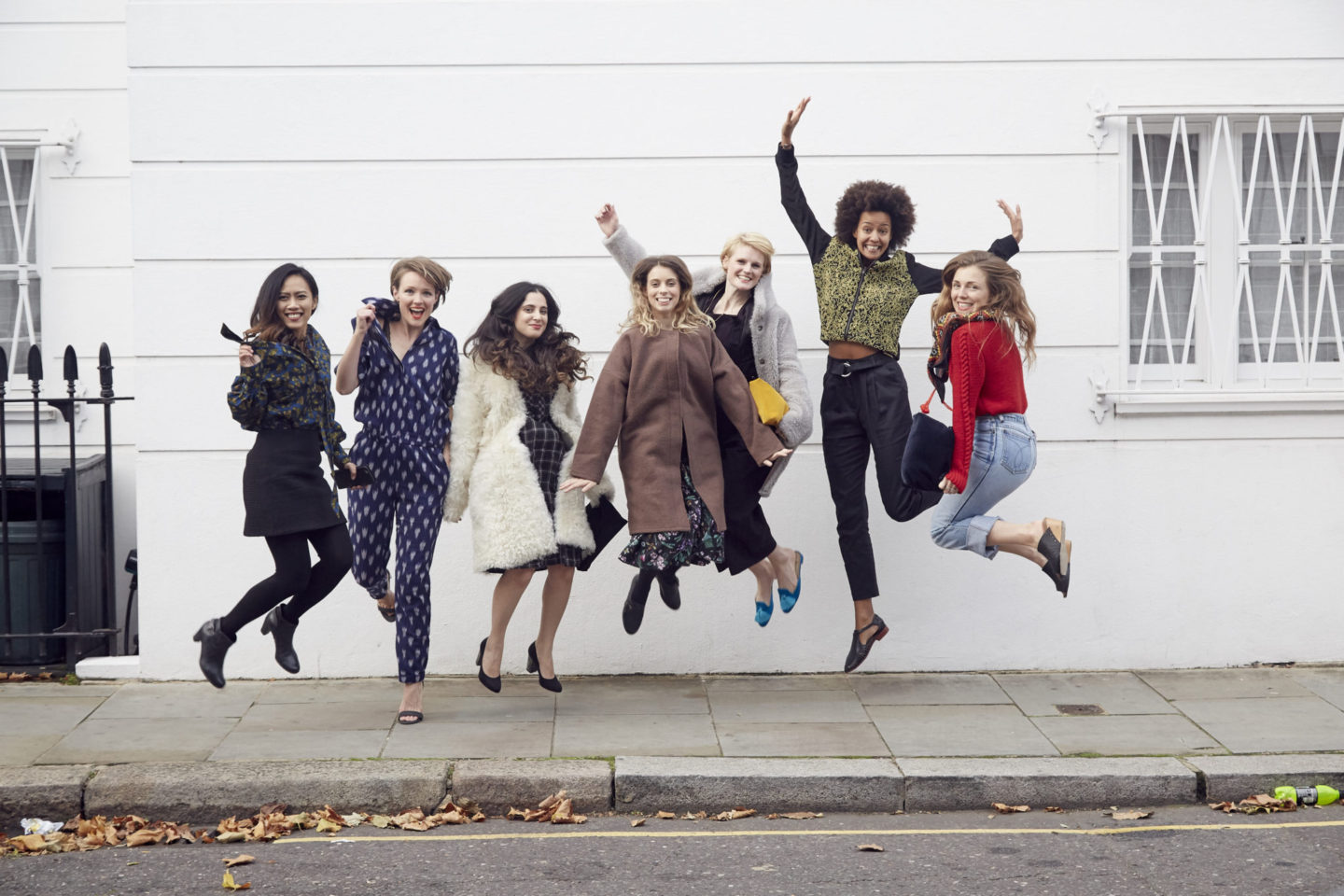 Now you may ask, How do you know if a brand is ethical? Well I recently wrote a post to discuss that very issue, do click here read it.
Well that's it for today, tomorrow I've got an Ethical Christmas Gift Guide for you, so make sure you manage to grab five minutes for yourself to make a cup of tea, sit down and have a read 🙂
Ethical Christmas Lookbook – Info
____________________________________________________________________________________________
Holly's casual outfit
 Sneak L Off White Gold Sneakers | PO-ZU
 Fireside Jumper | Ally Bee
 Dybridge Tartan Scarf | Celtic & Co 
Reversible Sheepskin Teddy Coat | Celtic & Co
Holly's dressy outfit
Wren Black Pinatex Wedges | PO-ZU
Jeans | Vintage
 Handknit Red Crop Chevron Sweater | Ally Bee
 A Peace Treaty Pure Silk Arash Scarf Black | Ethical Collection
 Zip Pouch Black | One Nine Eight Five
Kate's casual outfit 
Resistance Silver Limited Edition | PO-ZU
London Mini |P.i.C Style
Handknit Crop Chevron Sweater | Ally Bee
Roam Camera Bag Oak Leather | The Future Kept
Hat | second hand
Kate's dressy outfit
 Uzma Bozai Cotton Haddy Jumpsuit Blue | Ethical Collection Shoes | Her own
Francesca's casual outfit
Beatrice Organic Cotton Velvet Skirt in Ruby | Thought
 Organic Cotton Cocoon Cardi | Celtic & Co
Bamboo Beanie Hat | Thought Clothing
Cream Chunky Knit Scarf | Ally Bee
 Ello Natural Gold Shoes | PO-ZU
Francesca's dressy no. 2
 Bee Wrap Skirt – Gung Ho Design
Felted Wool Coatigan | Celtic & Co
Top | P.i.C Style
Shoes | Francesca's Own
Jen's casual outfit
Dalston Peg Trousers | P.i.C Style  
Hand Knit Crop Cable Jumper | Ally Bee 
Black & Gold Trainers | PO-ZU 
Fireside Beanie Hat | Ally Bee 
Zip Pouch Large Black | One Nine Eight Five 
Jen's dressy outfit
Beetle Wrap Skirt Skirt | Gung Ho Design 
De Beau Cami | P.i.C Style 
Ana Ecostone Boots | Bourgeois Boheme 
Nataly's casual outfit
Kate Merino Cardigan |  Flock By Nature
Red Herringbone Wide Scarf | Thread Tales Co
 Light Grey Cashmere Pompom Beanie  | Celtic and Co.
 Sneakers with Natural Cork | PO-ZU
Paper Thinks Ivory Top-Handle Bag| Ethical Collection 
Denim | Nataly's own 
Nataly's dressy outfit 
Harriet Organic Hemp Check Dress | Thought Clothing 
Reversible Curly Coat in Ivory| Celtic and Co. 
Kate Ecostone Heels| Bourgeois Boheme 
Zip Pouch Black Large | One Nine Eight Five
Katie's casual outfit
Asymmetric Cashmere Cape | Celtic & Co
Jeans | Katie's Own
Zip Pouch Black Large | One Nine Eight Five
Shoes | Katie's Own
Katie's dressy outfit
Dalston Peg Trousers | P.i.C Style
Zahra Embroidered Jacket | Ethical Collection
Shoes | Katie's Own
Jella's casual outfit
Poncho Jumper Grey | Ally Bee
Elford Striped Organic Wool Scarf | Thought Clothing
Uzma Bozai Mo Culottes Black | Ethical Collection
Sneakers Black & Gold | PO-ZU
Jella's dressy outfit
Tiger Moth Blouse | Gung Ho Design
London Mini | P.i.C Style
Shoes | Jella's Own
My outfit no. 1
 Fireside Jumper | Ally Bee
 Carolee Model Flared Trousers| Thought Clothing 
Colour Blocked Jacquard Scarf Multi | Ethical Collection 
Annie Pinatex | Bourgeois Boheme
Cuero & Mor – Leather Tote – Natural| Ethical Collection 
My outfit no. 2
Reversible Sheepskin Teddy Coat| Celtic & Co 
Hackney jumpsuit| P.i.C Style 
Zip Pouch Ochre Large| One Nine Eight Five 
Shoes | My own
____________________________________________________________________________________________
Discounts!!
The Future Kept | 10% off use code ETHICAL10  until 30th November
Flock By Nature | 15% off use code flockonholiday until 17th December
Celtic & Co. | 10% off  & free delivery use code N4MUMMY10  until 21st December
____________________________________________________________________________________________
With a huge thank you to Shane Woodward for the amazing photos find him on instagram @flaco_d_oro. Also to the  Fair Photo Agency.
This is a sponsored post, each brand featured has paid to be part of it, however we asked all these brands to be part of this feature, as we feel they are all brands to trust. All samples were borrowed and returned to brands.