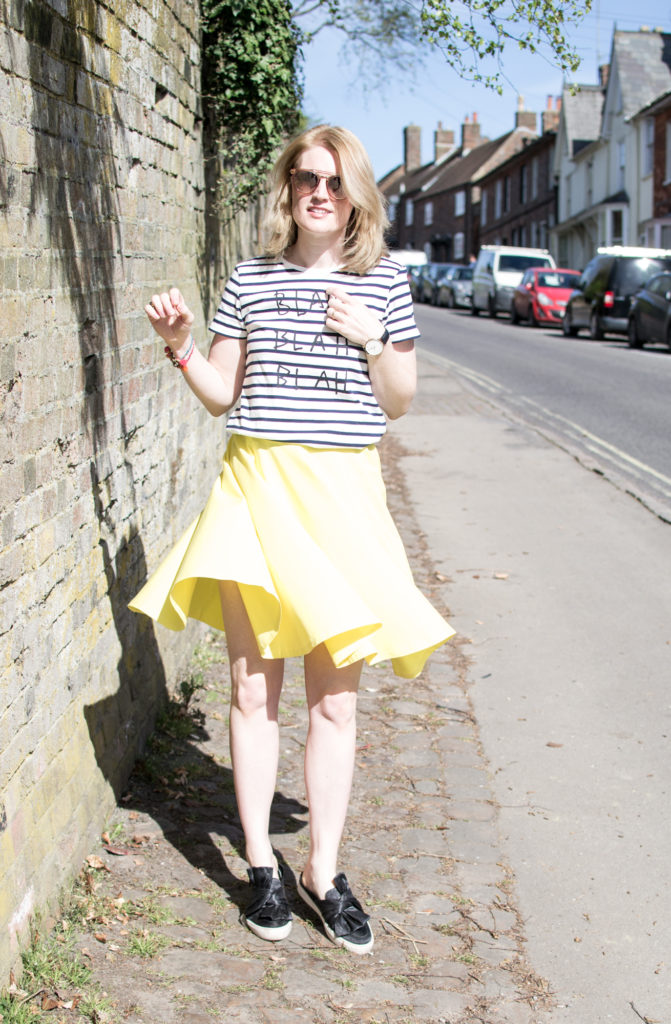 It's been 4 years since the Rana Plaza building collapsed killing 1138 people and injuring many more. And within the fashion industry nothing appears to be changing. Fashion Revolution encourage us to ask #whomademyclothes ? But transparency is still a murky issue, no pun intended.
So this year I decided to do something different. As consumers we have power, we vote with our wallets. So, I felt I needed to change the way I shopped. I set myself a challenge: to build myself a wardrobe that is made up of clothes that are ethically and sustainably produced. I have rules (click here to read) and I confess I am a little nervous. For, I know there'll be no popping into H&M for that little feel good fashion fix.
Therefore this summer I'll be only wearing brands who are happy to tell me #whomademyclothes
#whomademyclothes?
This sunshine yellow skirt brightens up my day. Its full circle demands a twirl, and makes me feel like I'm 5 again. It's from Papu Stories, a Finnish brand that put transparency and sustainability on a par with their super sleek scandi design. They are happy to share with us that most of their clothes are made in Portugal by Cottonhouse Ltd, (a few items are made in Finland) who are owned by a Finnish textile company Black Moda. The skirt is made from GOTS certified organic cotton which is imported from Turkey.
My new favourite organic blah blah striped T is from People Tree, it is made by Fusion Clothing Company in India. I've learnt that they provide safe working conditions, give back to the communities they work in and use the planet's resources intelligently. This gets a big tick from me. I love that People Tree consider where the garment is made as important as informing you of the fabric composition or wash care.
These über comfy Fairtrade organic cotton culottes are also from People Tree and are made by Creative Handicrafts. This company is a social enterprise working to empower disadvantaged women in the slums of Mumbai, India.
So, do you know who made your clothes?
_______________________________________________________________________________________________________
Blah Blah Striped T Shirt* | People Tree
Sunglasses* | TOMS sold out, similar
______________________________________________________________________________________________________