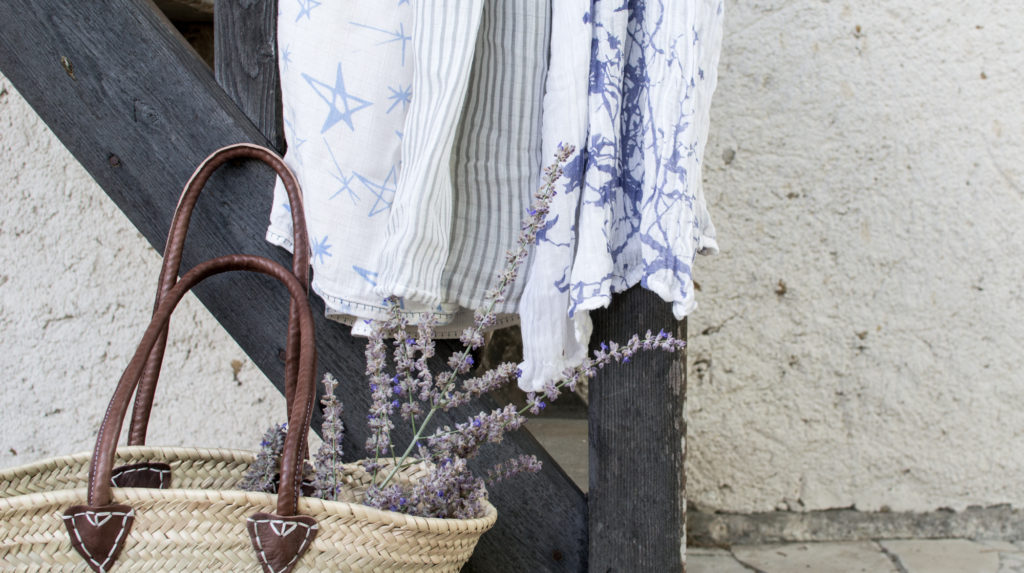 Drinking a cup of tea sans kids is a rare treat. Doing it in a café with Sarah and Clare, the founders of Kenzie & Kai, was wonderful. For as you know I love discovering the real people behind beautiful brands.
They have produced a stunning range of hand printed organic swaddles and blankets. Their taste is immaculate. Ethereal prints in soft muted tones, turn the mundane into something you want to have in your home.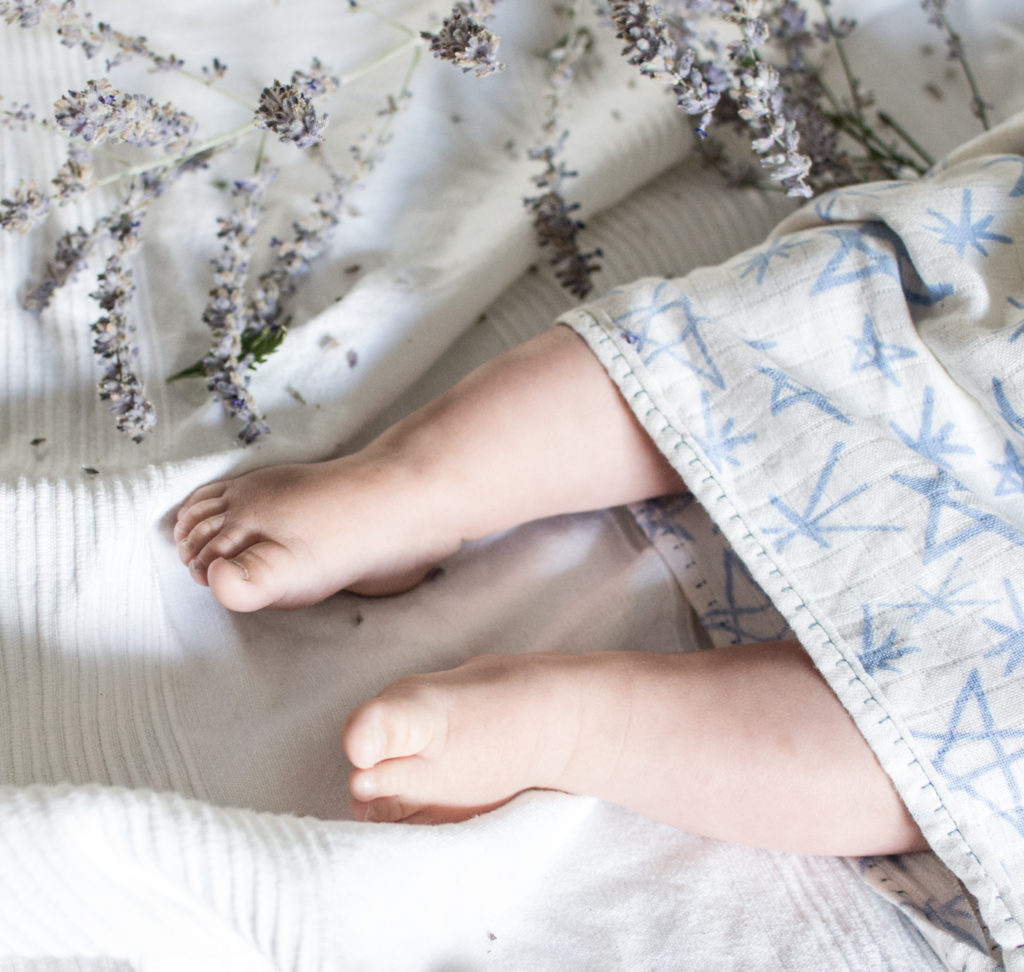 Sarah and Clare grew up together, went to school and university together where they both studied printed textiles. They are  good friends, in fact Clare is the Godmother to Sarah's eldest, Sophie. Though their careers took different paths, on graduating they had said to each other, "it would be good to do something together, at some point." It has taken 10 years for that something to materialise. I thought I'd find out more:
Q: Where did the name Kenzie & Kai come from?  Clare: So my middle name is MacKenzie and Sarah's surname is MacKay, but it's pronounced MacKai. We kind of did a combo. It's a bit more interesting than Sarah & Clare!
Q: Why have you chosen to use organic cotton?  Sarah: It was important to us to build an ethical business, using organic fabrics, eco-friendly water based dyes, hand printed by us. When I was pregnant with Sophie, I was looking for organic fabrics and noticed that no one mentioned how they were printed. Everything was to baby like, I wanted something more refined, something more in keeping with the rest of my life. I thought, just because I am having a baby doesn't mean I want it all to be pink and babyfied. I wanted something with style & substance.
Q: Where do you get your inspiration for the prints from? Sarah: For the star gazer print, I was making Christmas cards with my eldest Sophie, and was teaching her how to do a star and it evolved from there. The print is her star and my star side by side. The Treehouse print is from a photo of one of the trees in my garden.
Q: What's been the biggest challenge? Clare: Definitely time and meeting up, we live miles apart and I have a full-time job and Sarah has three children.
Q: Why do you think sustainability is important? Sarah: My Dad has always been at the forefront of recycling in our house. Everything had to be recycled, so it's been drummed into me from an early age. Throwing things away was never ok. So living sustainably has always been something that's been around. I've never liked the idea of buying something to wear just once and then to just throw it away. It's never been something that sits comfortably with me. I want my daughter Sophie to appreciate what she's got and then learn to pass things on afterwards.
Clare: When I've travelled to places and seen how people live, it's really challenged me. In Ethiopia, for example, they have nothing. And they are the ones making your clothes that you pay a tiny amount for. It doesn't seem right that we buy things barely use them and then get rid of them.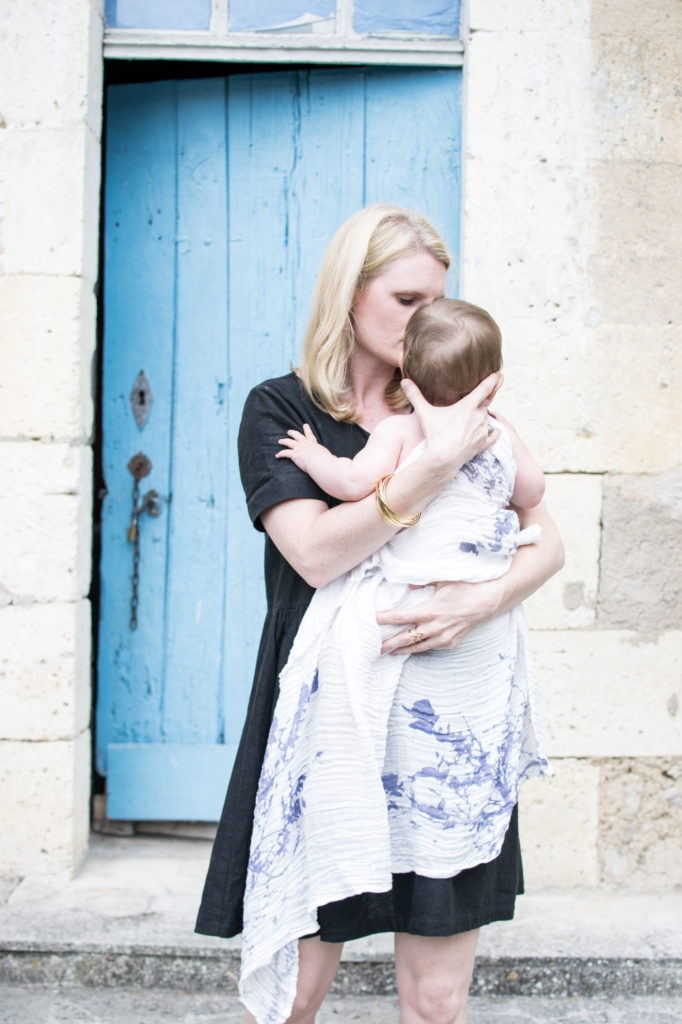 Behind the Scenes
What I love about this brand, is that every single detail of the supply chain has been thought through with care. Also, it's a tiny supply chain which makes it so much easier to control. Bamboo and organic cotton is grown, woven into cloth and made into organic swaddles in a women's collective in India. The organic swaddles are then hand printed here in the UK by Sarah and Clare. The organic double cloth blankets come into the UK as a roll of cloth and they sew and hand-print them themselves. Using the skills they developed from university.
You actually get two organic blankets, one that's printed with a print of your choice and the other that's plain. This makes it is the perfect trans seasonal blanket. Layer up both blankets in the cold, or just use one when the sun is shinning. The organic swaddles are a fantastic size at 120 by 120cm which makes them so versatile.
Organic swaddles are from £35, organic blankets from £80, though they also offer a bespoke service, prices are available on request.
For 10% discount on all products please use code 10OFF, valid until 13th October.
Shop Organic Swaddles & Blankets
_________________________________________________________________________________________________________
Treehouse Organic Swaddle | Kenzie & Kai
Wide Stripe Organic Swaddle | Kenzie & Kai
Star Gazer Organic Blanket | Kenzie & Kai
_________________________________________________________________________________________________________
This is a sponsored post in collaboration with Kenzie & Kai, however as ever all opinions are my own.