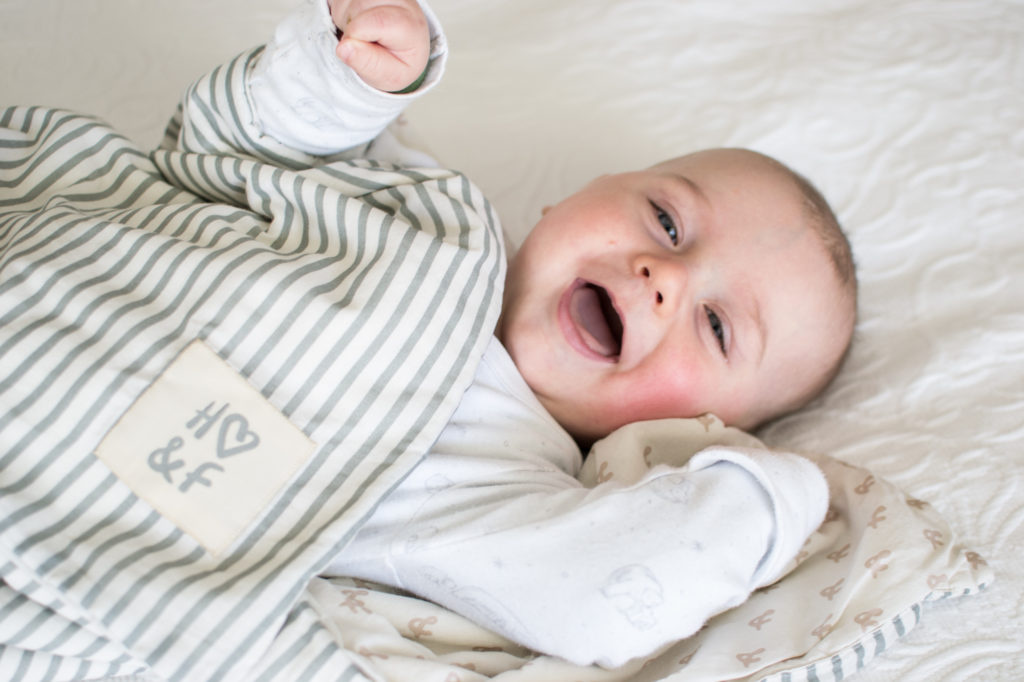 Name: Laurie Day
Age: 8 months
Did you have a lovely Easter break? My parents spent most of it sleeping and eating, a bit like me I suppose. Anyway here's my latest news.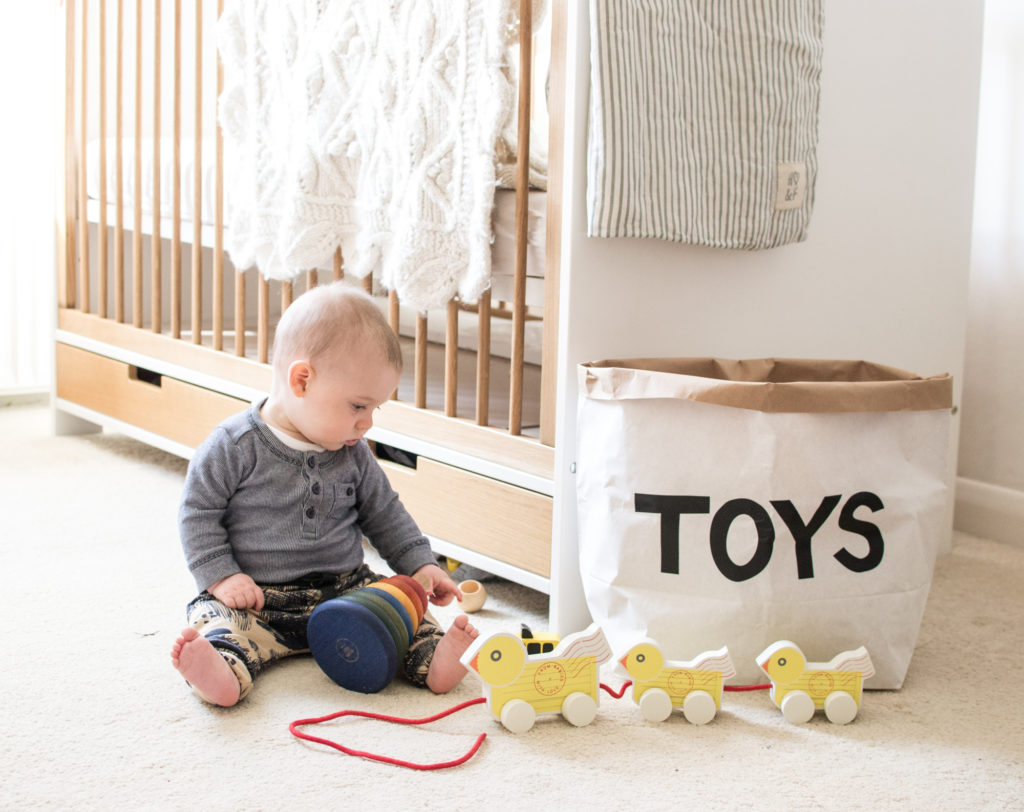 My Half of The Room
I've finally moved into Daisy's bedroom, and so have decided I need to make my mark.  My big sister seems to think stealing my blanket, comforter and jumping up and down on me is ok. Naturally this happens after lights out. When Mum & Dad think we're asleep, she creeps into my cot to tickle and play peekaboo with me. I love it! Our parents aren't quite so impressed. Mummy worries Daisy will suffocate me. Doesn't she know we're just bundling?
My Toys
Anyway, here's some pictures of my side of the room. You'll see my lovely TOYS bag that mum bought me for Christmas. It's from stylish family online boutique Oskoe Living. Also my new favourite toy, this pull along wooden duck family that From Babies With Love sent to me. It's so nice to have my own toy that Daisy can't claim as hers. The ducks are made from wood from sustainable sources, and as with their clothing, all the profits go to support abandoned babies. Mum's written in more depth about this amazing brand before, if you'd like to read about them please click here.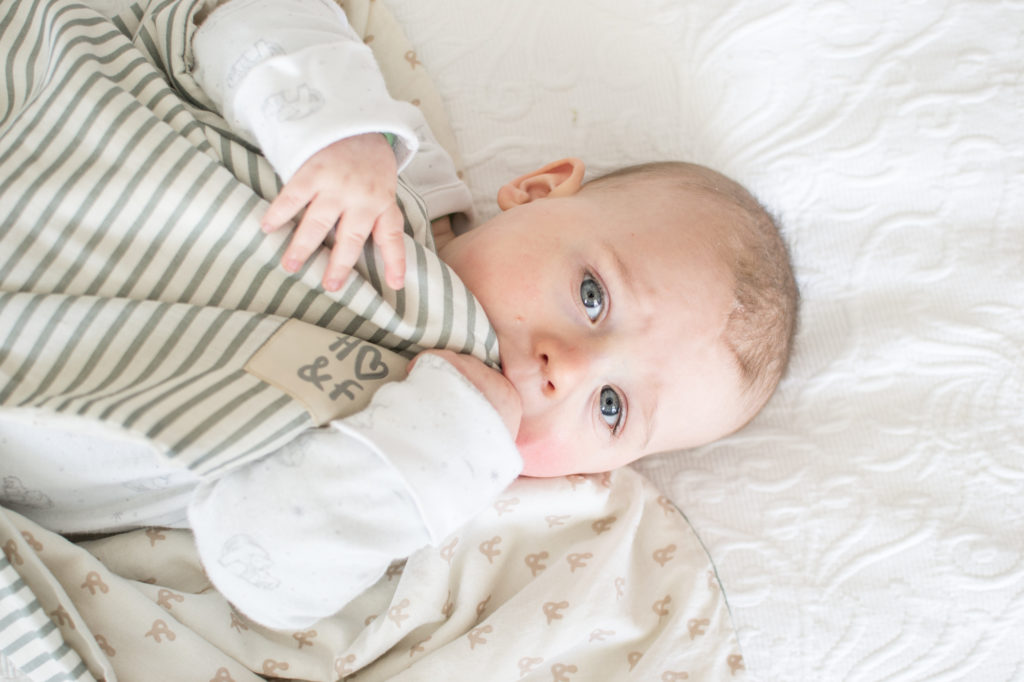 My Sleep Essentials
Comfort in sleep is something I think is essential. Mum wears an eye mask to bed and I pull a blanket totally over my head so it's pitch black. For this warmer weather my blanket of choice has been this printed GOTS certified organic cotton blanket from Hope & Fortune. Mum loves the simple printed stripes with & sign on the back. I love the fact it's so soft and that it smells so fresh and clean. It came with some allergen free baby friendly laundry sachets which smell amazing. Apparently it's filled with layers of organic unbleached herringbone weave muslin, which keeps it soft, structured and breathable.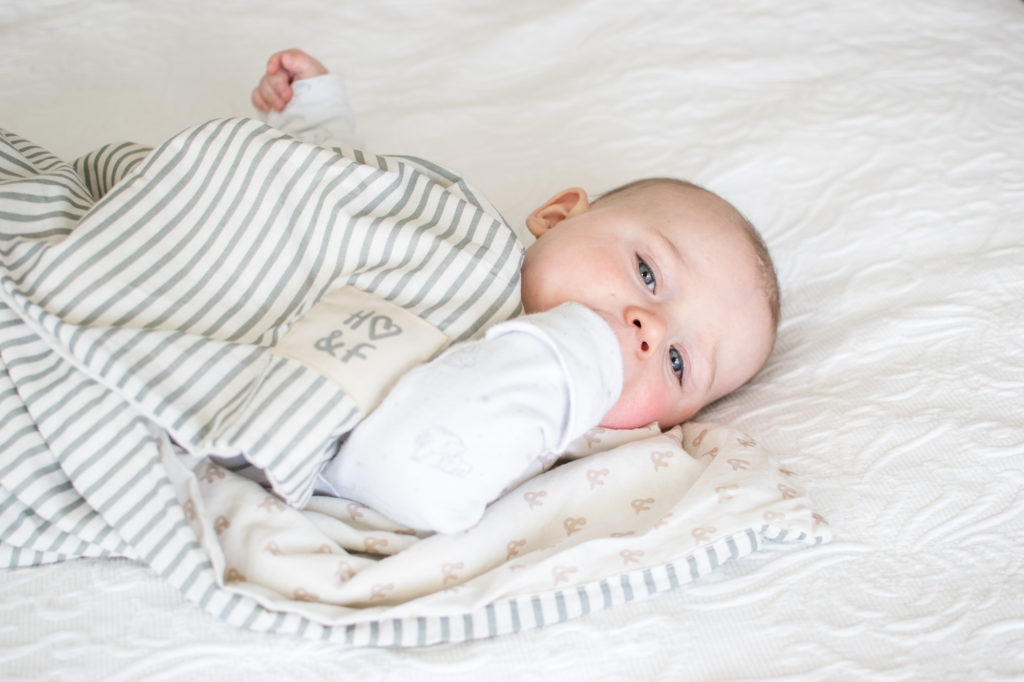 Underneath the blanket Mum's been trying out this jersey Mokee SleepyBag on me. I love it because it keeps me snug and cosy. Mum loves it for its minimalist design, the fact that it's suitable for a car seat and because it's dual tog. The front section is detachable and it comes with x2 fronts: a warm and cosy wool lined 2.5 tog section, or a light 1 tog for summer. It's also handy for when I throw up as she can just switch over the front! Talking of being ill…..
This past week I've had my first experience of man flu, which really is as bad as it sounds. Living off dry bread and yoghurt is torture when you love food as I do. Thankfully I was well enough to indulge in hot cross buns and Easter eggs this weekend. But no one seemed to think I was old enough to try chocolate.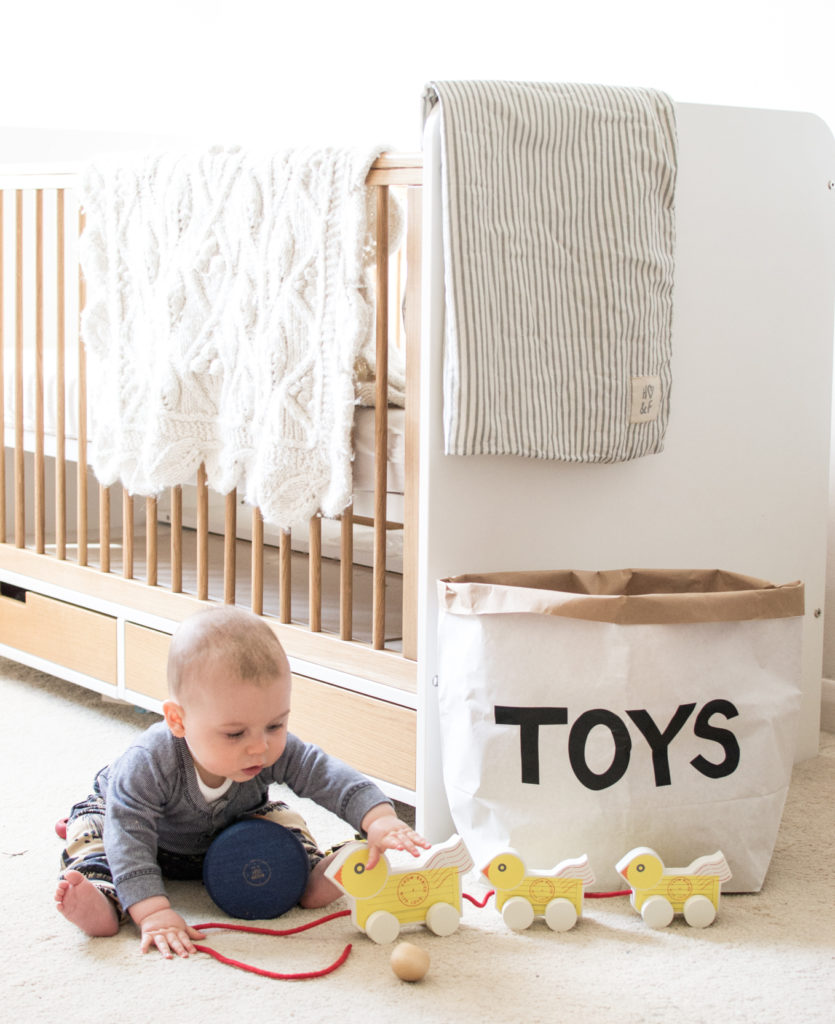 _______________________________________________________________________________________________________
Pull Along Duck Family* | From Babies With Love
Organic Stripe Blanket* | Hope & Fortune
Hand Knitted Blanket | By a friend
Cot | Preloved
_______________________________________________________________________________________________________