Protected Species
Rain rain go away, come back another day. With kids I dread rainy days. Cooped up children equals squabbles, whingeing and a ratty mummy. Which is why I was so excited when I heard about Protected Species, a brand who've totally reinvented the idea of rainwear.

Technology & Design
Not an ugly cagoule in sight, their range of waterproof coats are the ones you want to be seen wearing. They've managed to combine sleek minimalist design, with technology to offer us serious protection from the rain. Each seam is tapped to ensure complete waterproofing, and each coat comes with a two-year waterproof guarantee. This is the new über cool outerwear for urban mummies.

styling
And there are various styles to suit different personalities. I chose the Waterproof Commuter, for its clean lines, longer length & cocoon shape. The Waterproof Mac is a slightly more formal, and great if you need to go into the office. However, if casual is your look try the Waterproof Parker, I particularly love the khaki version. Each coat comes in a range of colours, please head over the website to see more.

Attention to Detail
It's the attention to detail that makes these waterproof coats so great. I love that the hood can be hidden away in a compartment at the neck and that the toggles are gun metal. Plus all the zips are cleverly concealed behind plackets, to give a streamlined look.

versatility
My Protected Species Waterproof Commuter is a great weight for a rainy July/August. Light and breathable, it's perfect to chuck on over a summer dress or jumpsuit during a sudden downpour. I'm wearing mine with my certified organic and Fairtrade striped dress from Kowtow, which I bought from Gather & See. Yet I can see myself wearing this coat into winter too. So, I specifically got it a size up so I'll be able to put a thick jumper underneath it and stay warm and dry.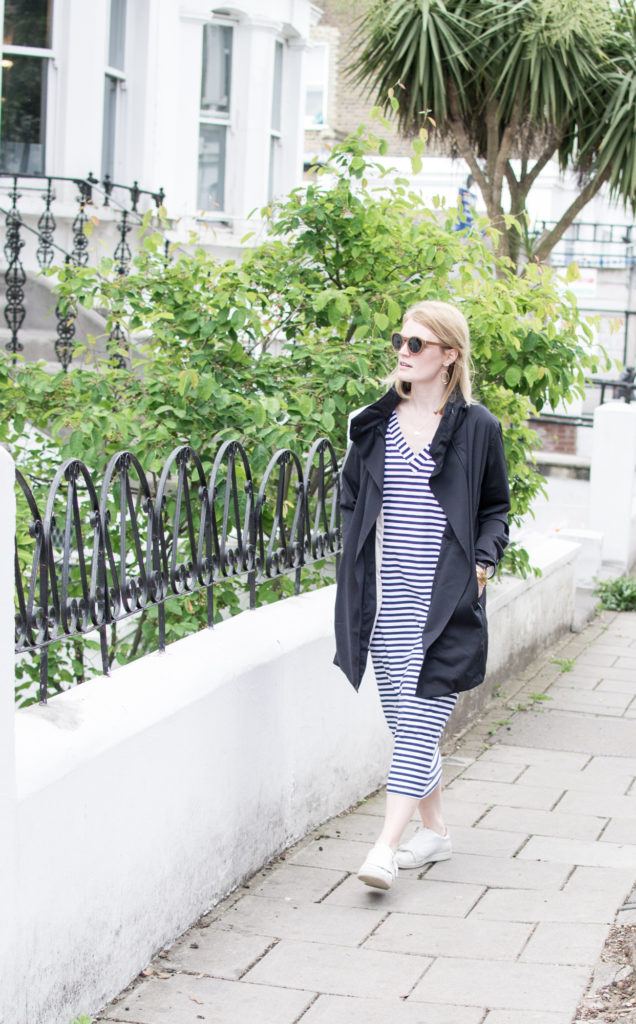 Now come rain or shine, the kids and I head out to the park. And my days of battling with umbrellas, buggies and scooters are thankfully over.
Shop My Wardrobe
_______________________________________________________________________________________________________
Waterproof Commuter | Protected Species
Striped Dress | Gather & See (sold out)
_______________________________________________________________________________________________________