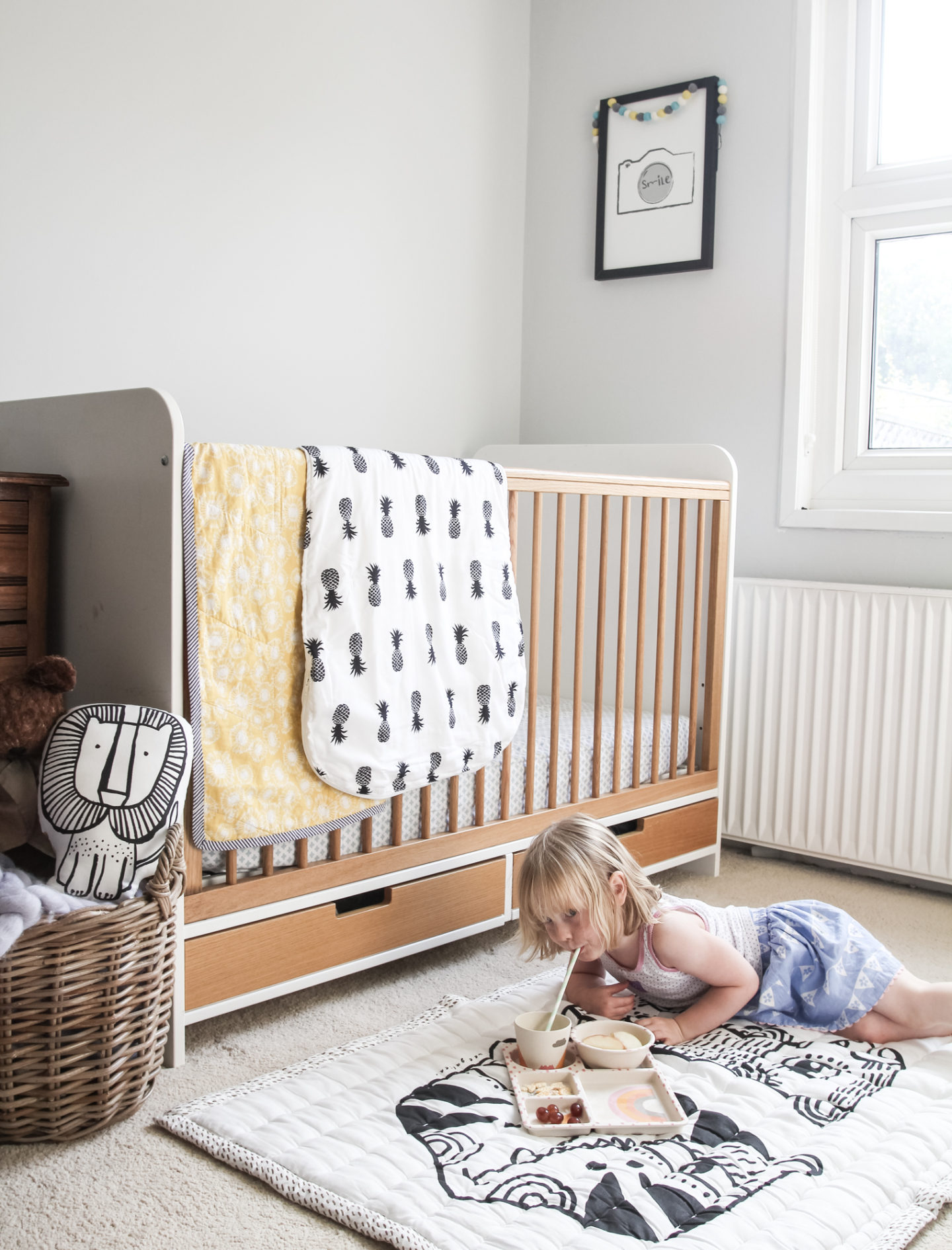 When I became pregnant with Daisy, I confess I went a little pink mad. I don't really like the colour, so I blame it purely on hormones. Fast forward two years: Laurie came along, we moved house and I realised we needed a room to suit both kids. So, I set myself the challenge of creating a unisex nursery using ethical, sustainable and independent brands.
Daisy is 3 with an opinion. If it was down to her the room would be purple and pink with fairies and princess. But grey is a great base colour as it literally goes with anything, allowing the room to be transformed by the accessories. I toyed with the idea of using Edward Bulmer Natural Paint because it is eco-friendly. Did you know every tonne of synthetic paint creates 30 tonnes of toxic waste? Their paint manufacturer, however, is C02 neutral. But we had some paint left over, so I felt that was the more sustainable option.
An Ethical Unisex Nursery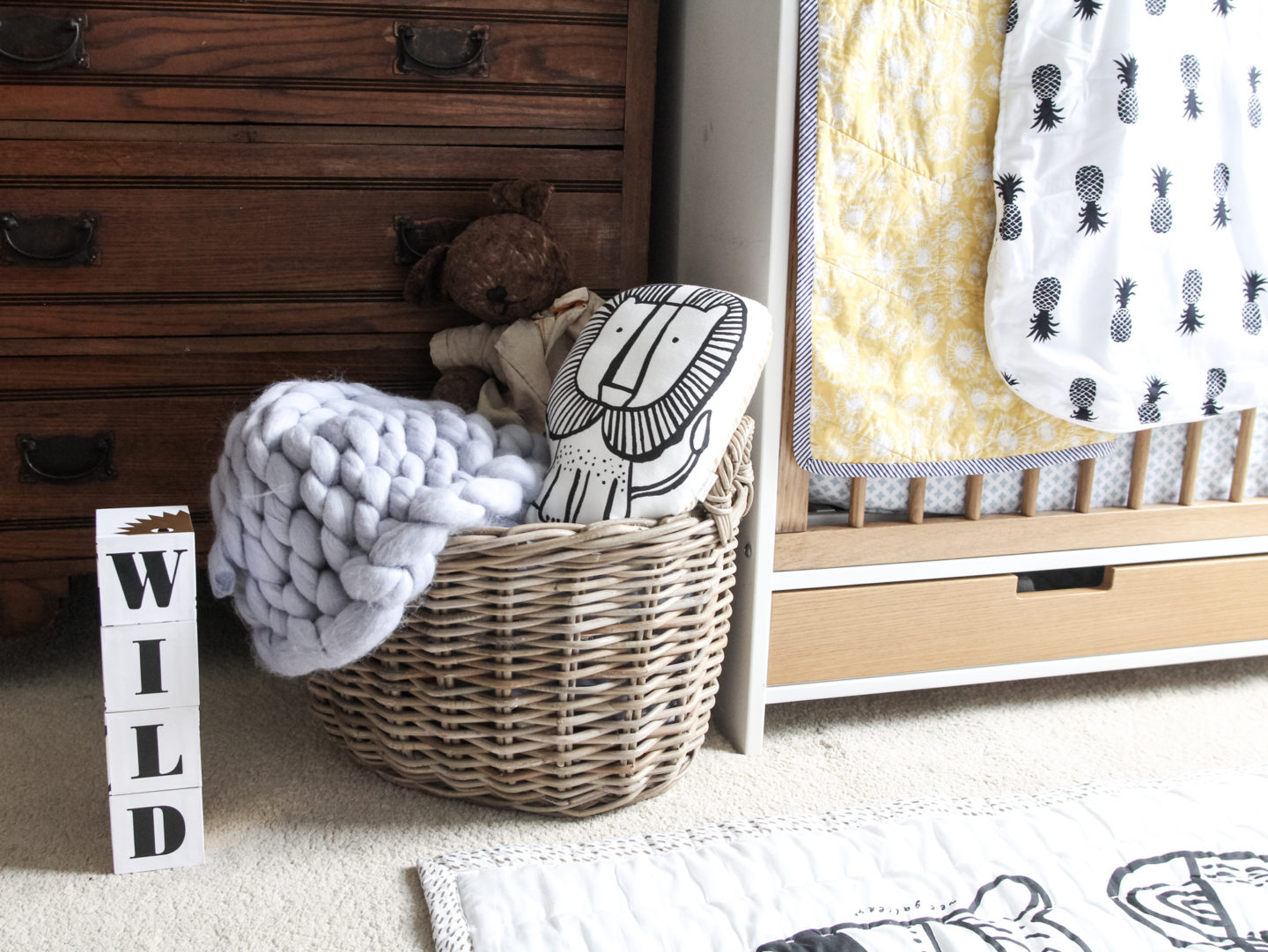 Monochrome from Wee Gallery
The communal items are monochrome, my logic behind that is that then the children can choose whatever colour other pieces they like. The lion cushion, playmat, art blocks & growth chart are from a fantastic brand called Wee Gallery which can be bought at Me & Buddy. All their textiles are made from organic cotton & are certified Fair Trade and made in India. I love the black and white designs as they depict all the animals the kids are currently mad about: bears, foxes and anything that goes ROAR! Hence the fact that Laurie had to have the organic lion cushion.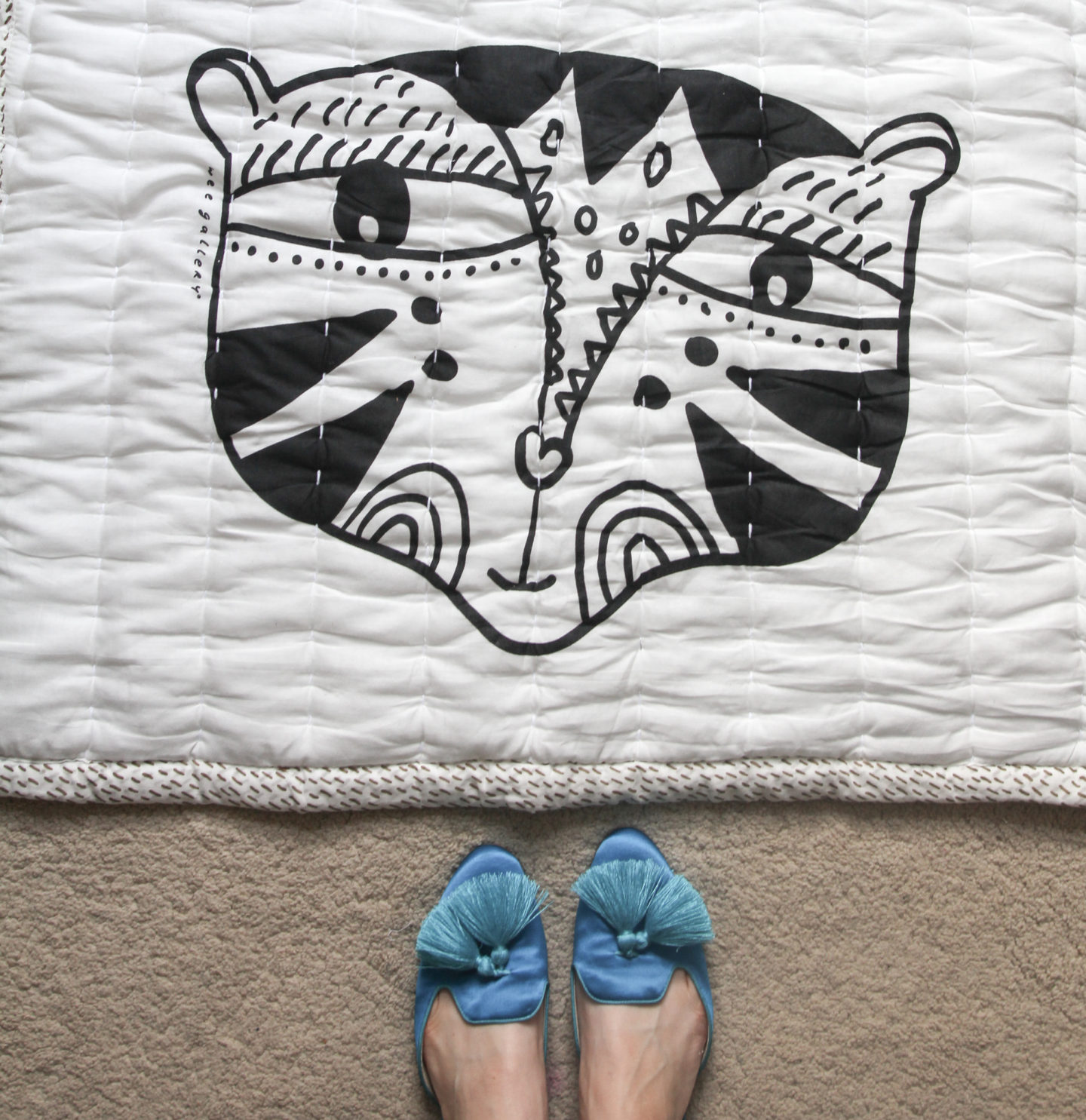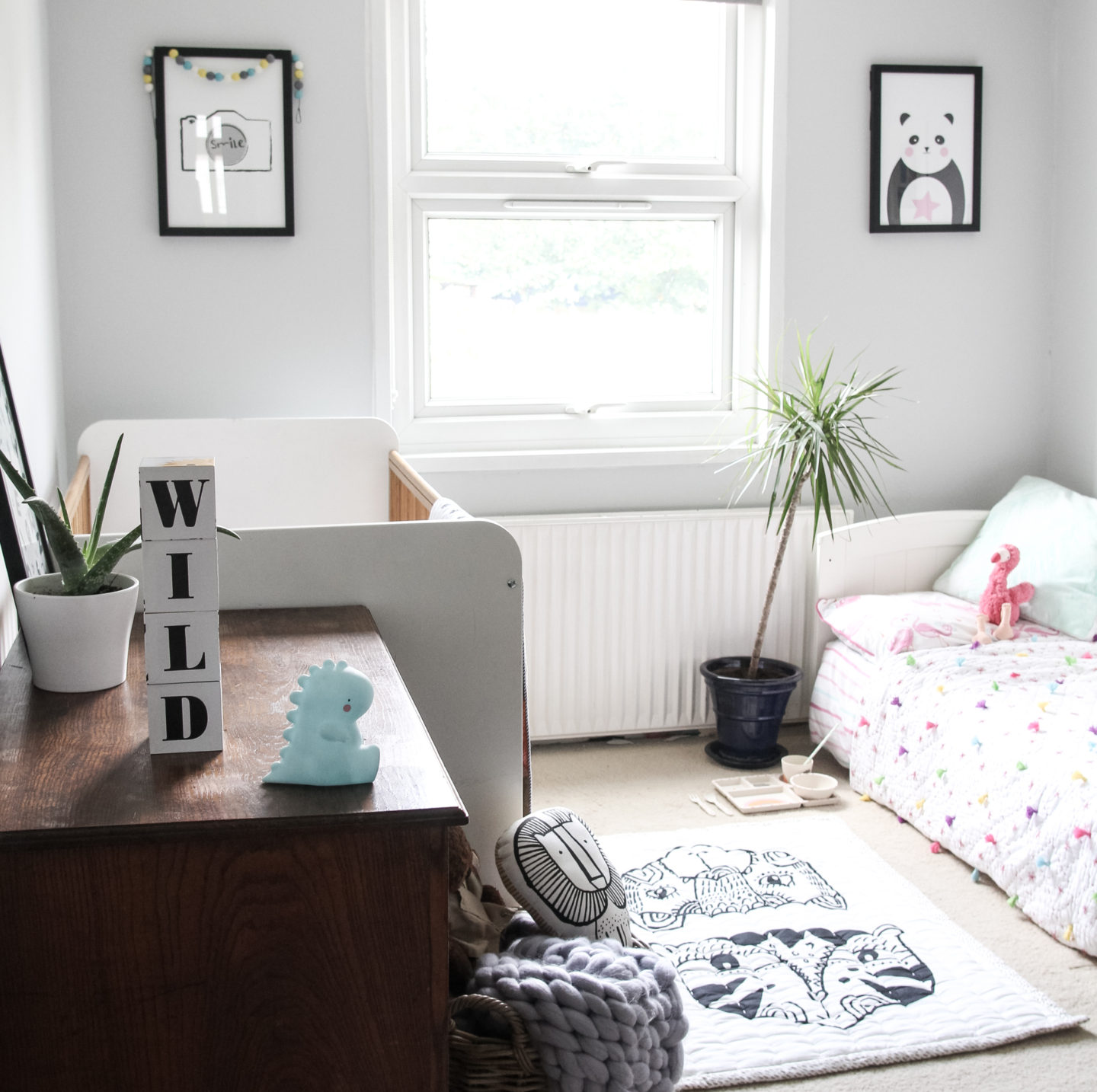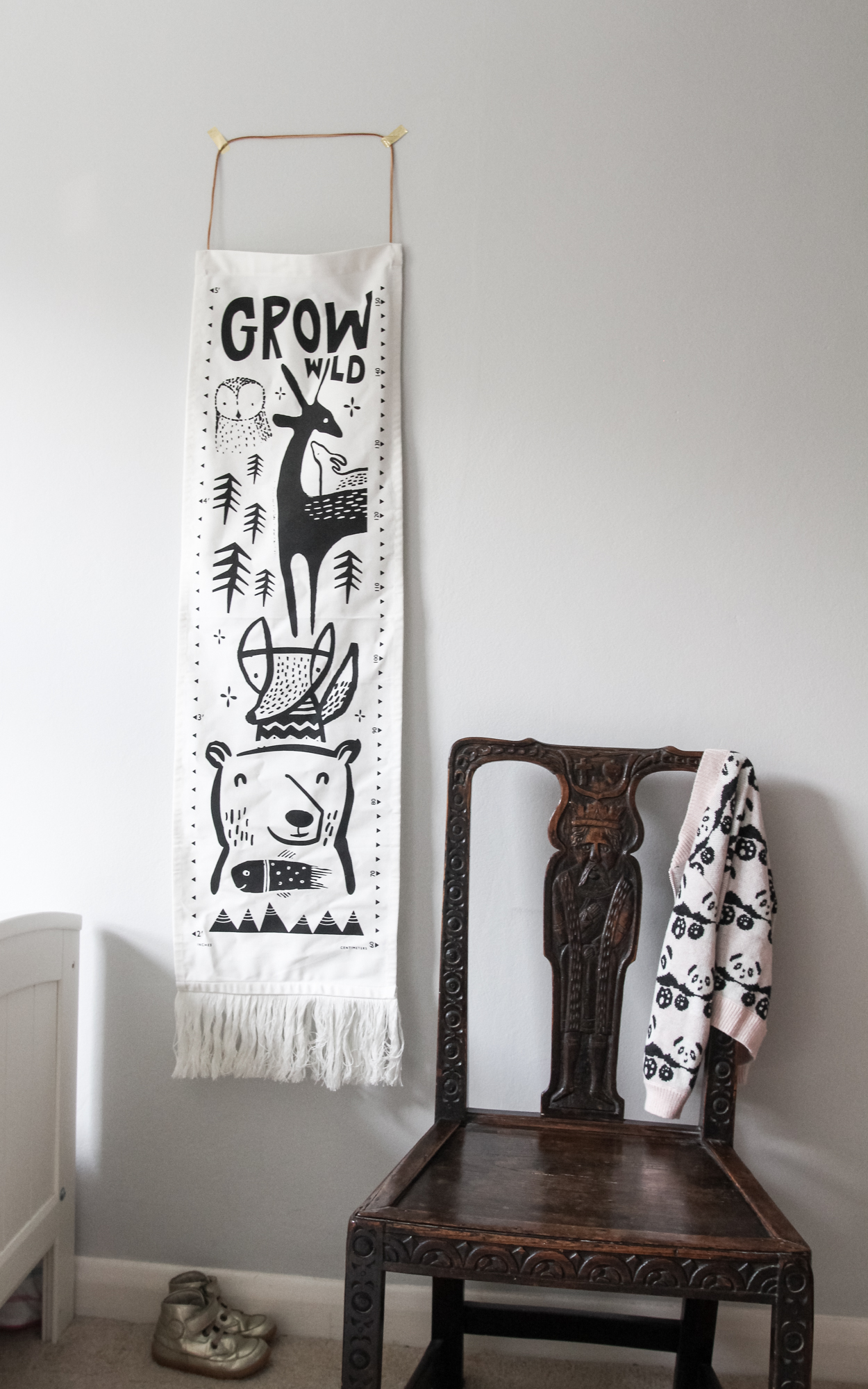 The Wild Faces playmat is soft, cushioned and machine washable, it's also reversible. The blocks provide endless fun as are printed on all four sides creating a tiger, lion, gold sun and the word WILD, which is so appropriate for my two. They are made from FSC board. I have fond memories of the yearly measure in as a child, but we haven't quite worked out how we are going to mark their heights. If we write on the wall Daisy may start thinking it's a free for all.
Nursery Accessories from Me & Buddy
I discovered Me & Buddy just last Christmas when I was searching for nice dinnerware for kids. It's a really lovely online boutique that sells beautiful, but inherently useful products that fit into our home's aesthetic. It also has free UK standard delivery over £20.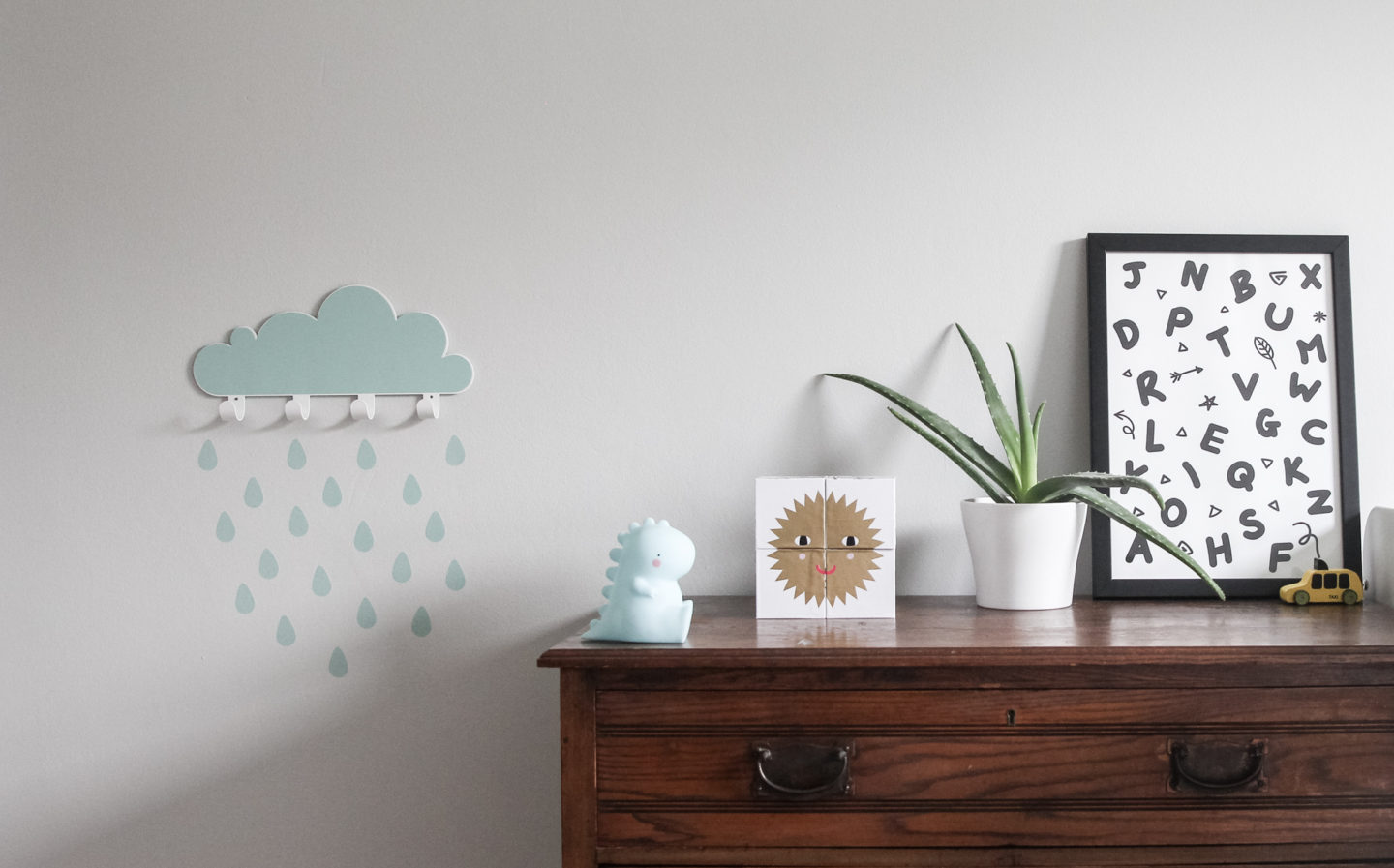 The Dinosaur Light
Daisy has been suffering from nightmare's recently, and repeatedly comes into our bed. We've found this dinosaur nightlight so useful. It's an LED light so we don't have to worry when she cuddles it to sleep. It also switches itself off after 15 minutes, so you don't have to remember to turn it off. We've used it to help banish fears of the dark, as well as a reading light pre bed.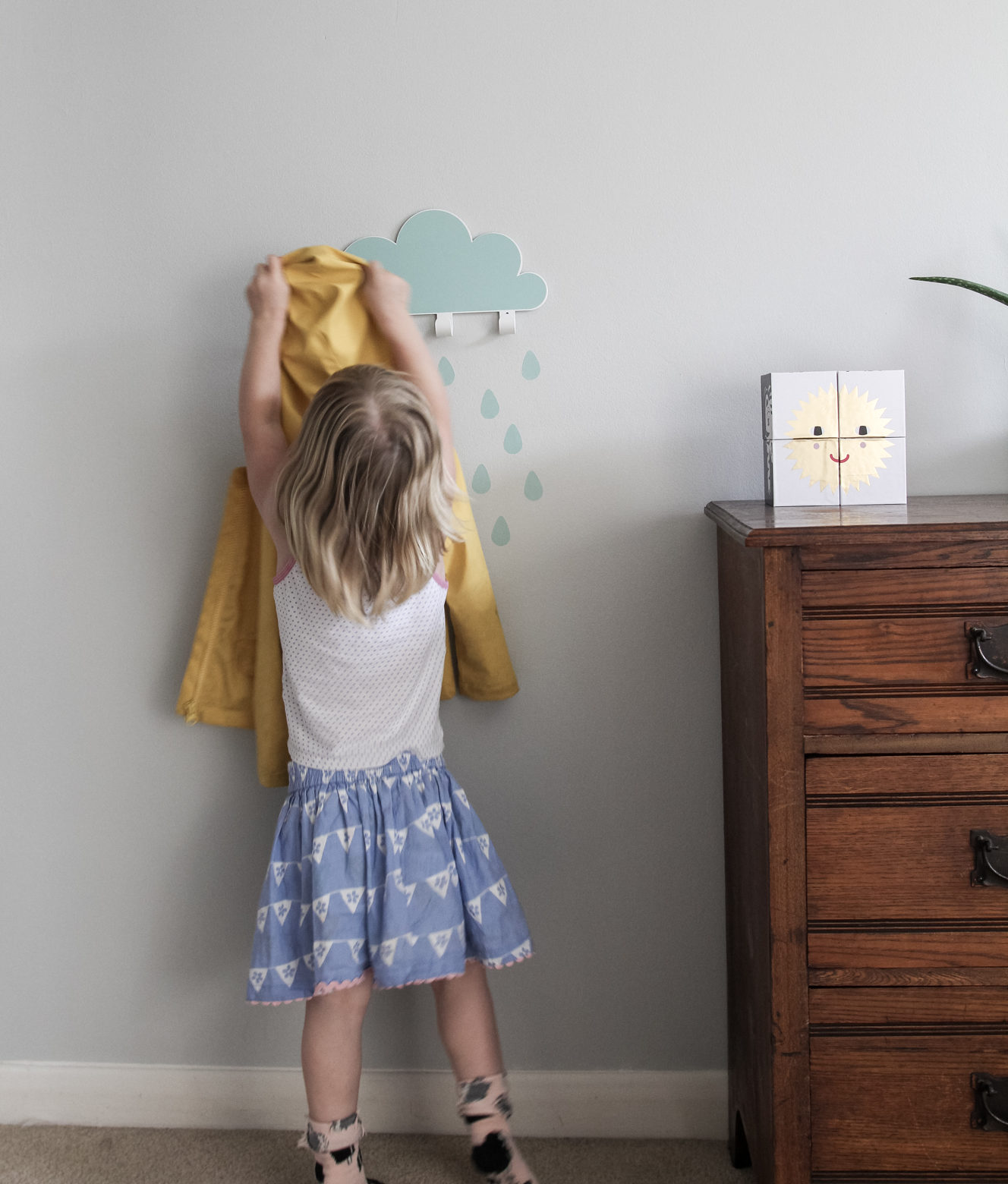 Cloud Coat Hooks
I'm endlessly picking up clothes off of the kids floor, and so am trying to teach Daisy to hang up her coat each day. Having wall hooks at her height has been a great help, the fact that they're in the shape of a cloud with raindrops makes the whole process fun.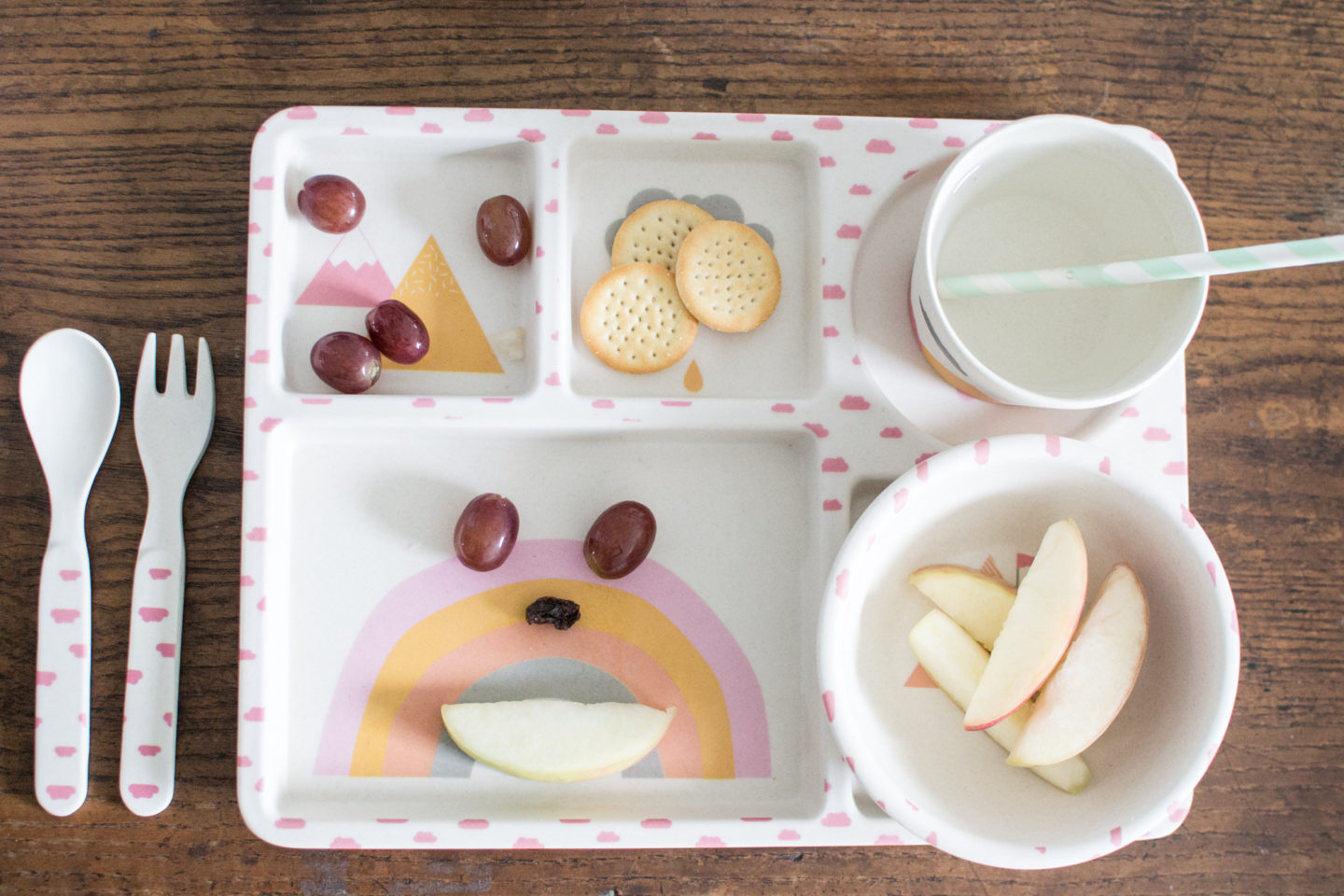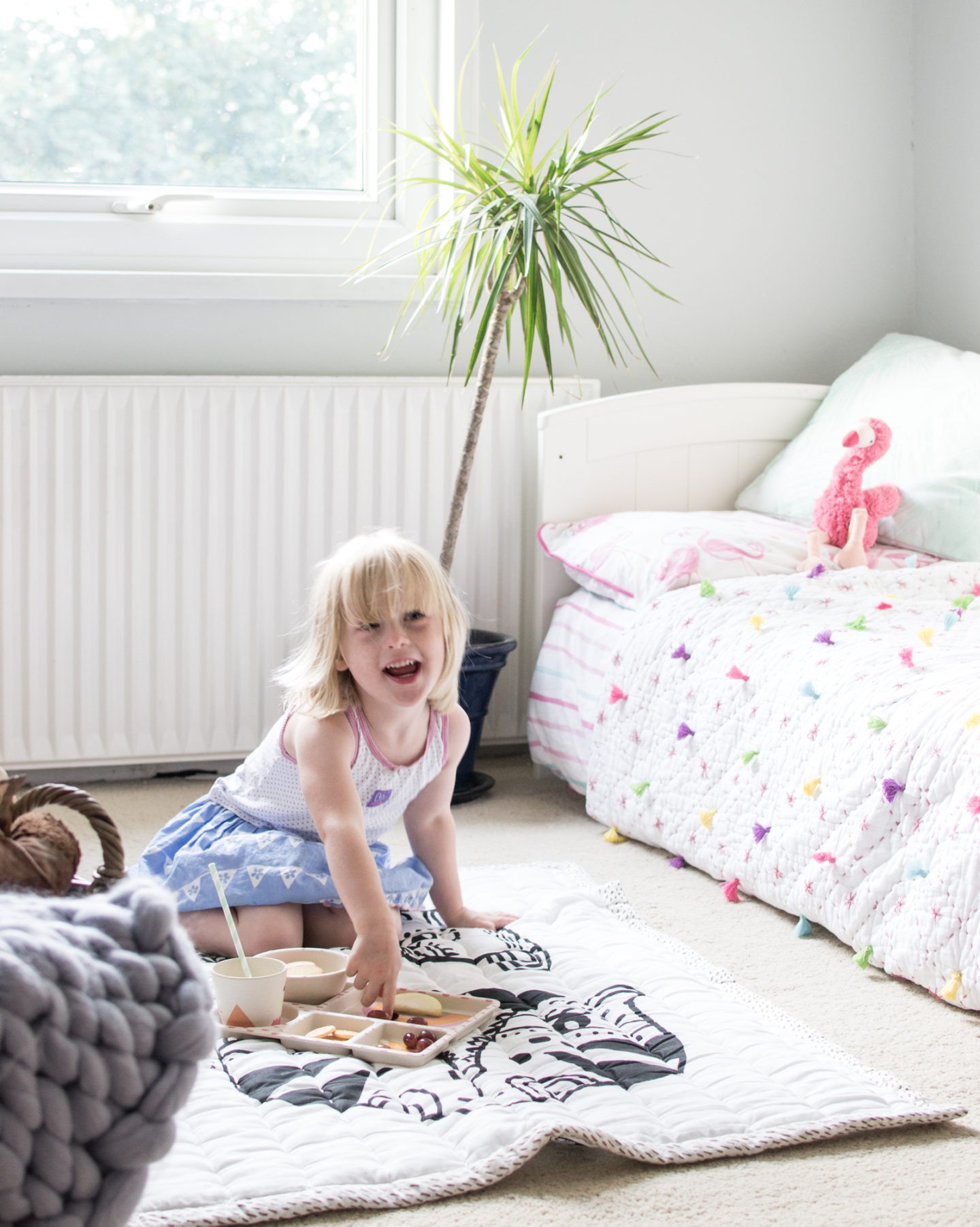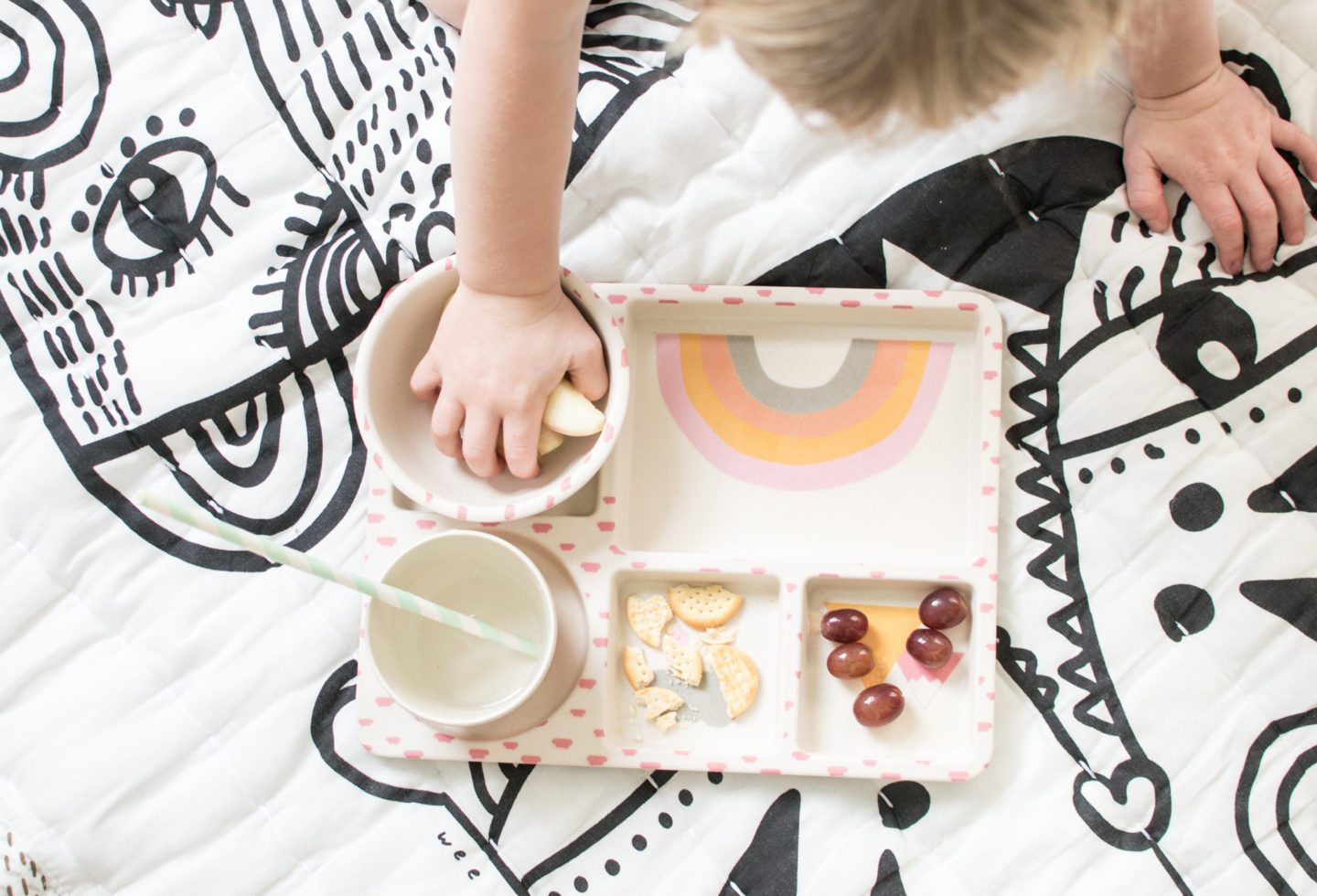 Bamboo Dinnerware
I don't normally allow food in the bedroom, but post pre-school she is allowed a small snack and drink. Daisy loves the different compartments on this plate and at dinner I've started adding pudding on there too to encourage her to eat her main course. It means I have to watch her like a hawk (!) but it is having some success. The dinnerware is made from a by-product of the bamboo industry so is eco-friendly, dishwasher and stain proof.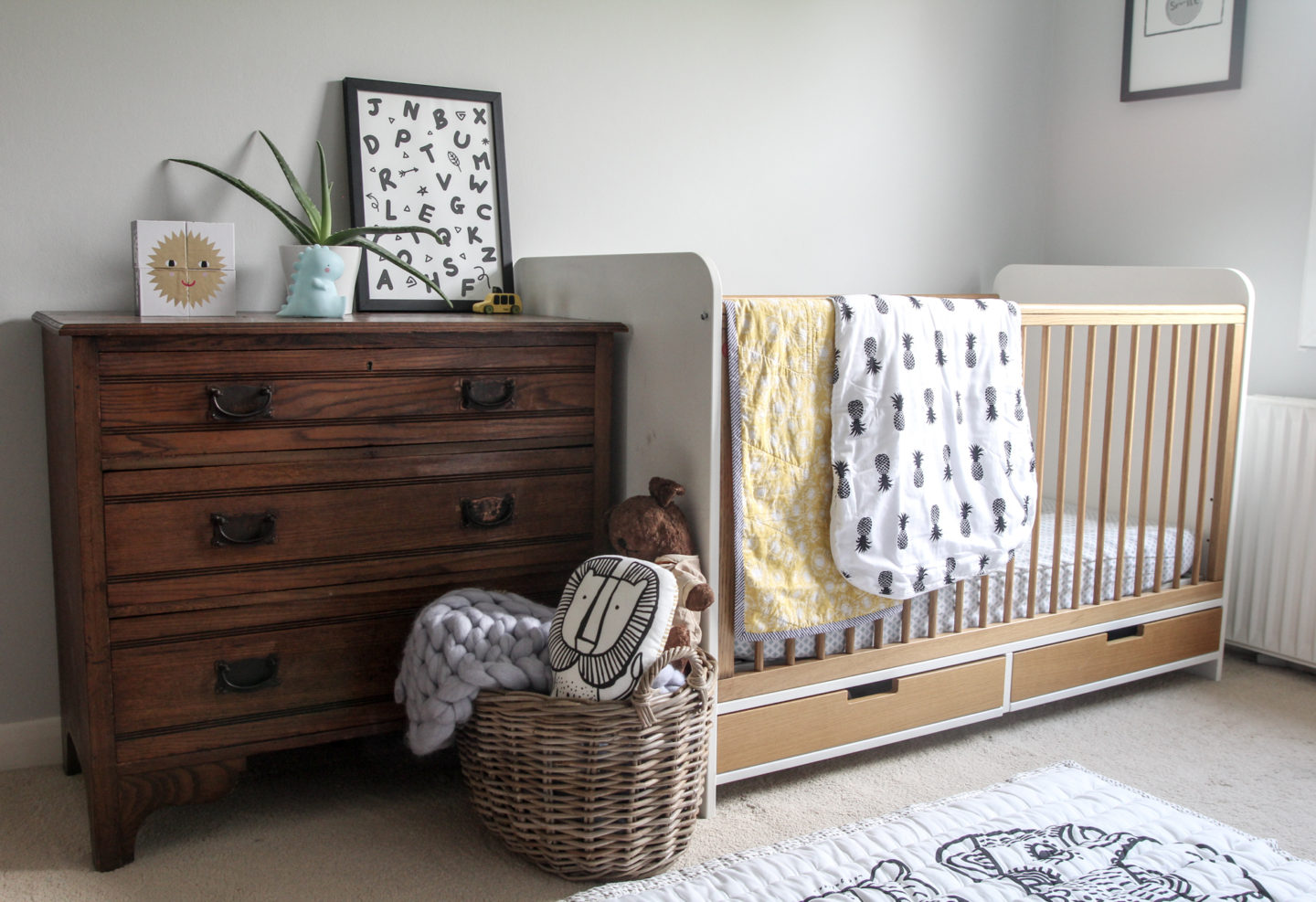 Babasac Sleeping Bag
We're all fans of Laurie's Pineapple sleeping bag, but the print isn't the only great thing about it; it is multi tog. As parents we have enough to think about without worrying about having the right size sleeping bag in the right weight. It has a section that can be zipped in or out, to turn a 1 tog into a 2.5 sleeping bag, genius.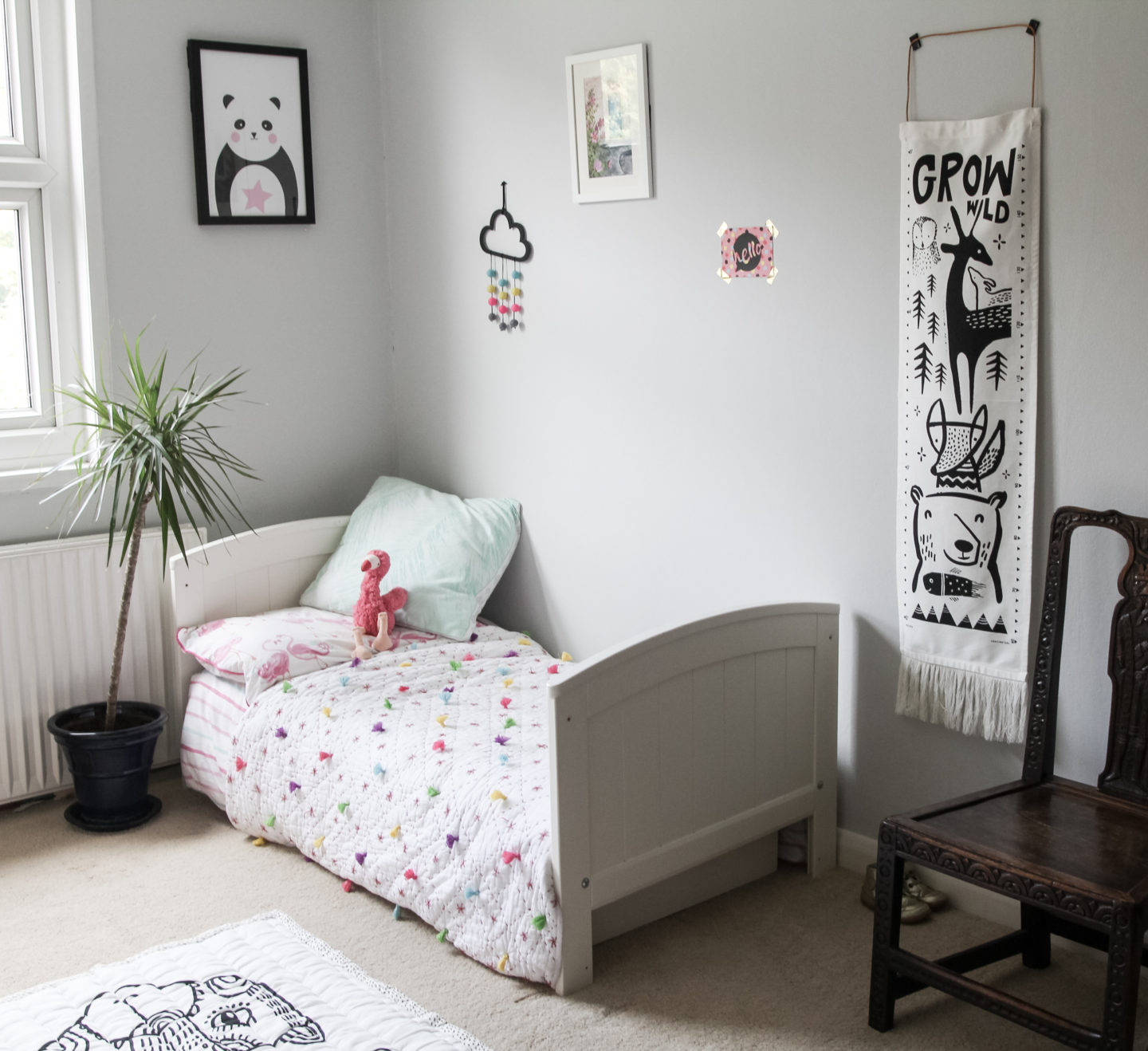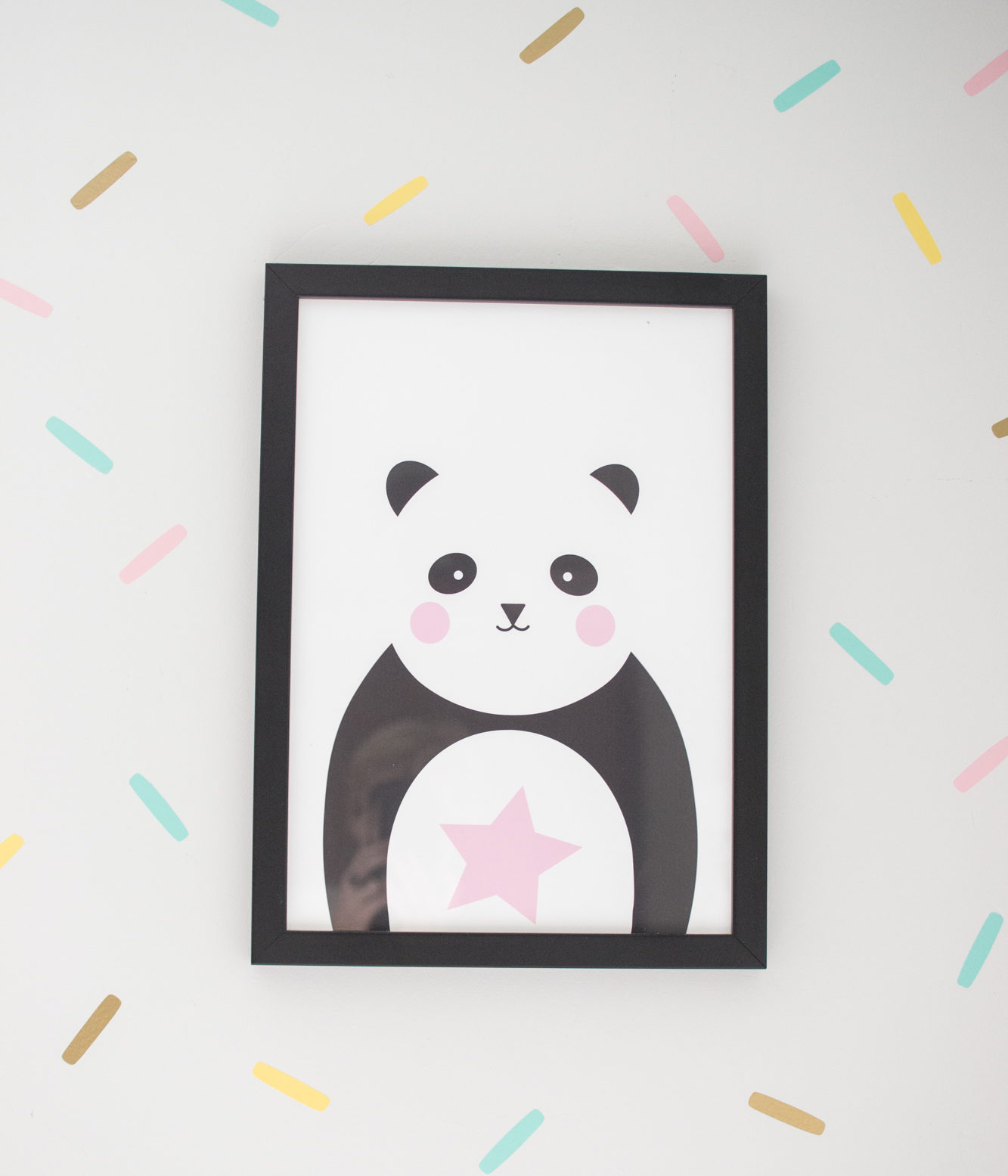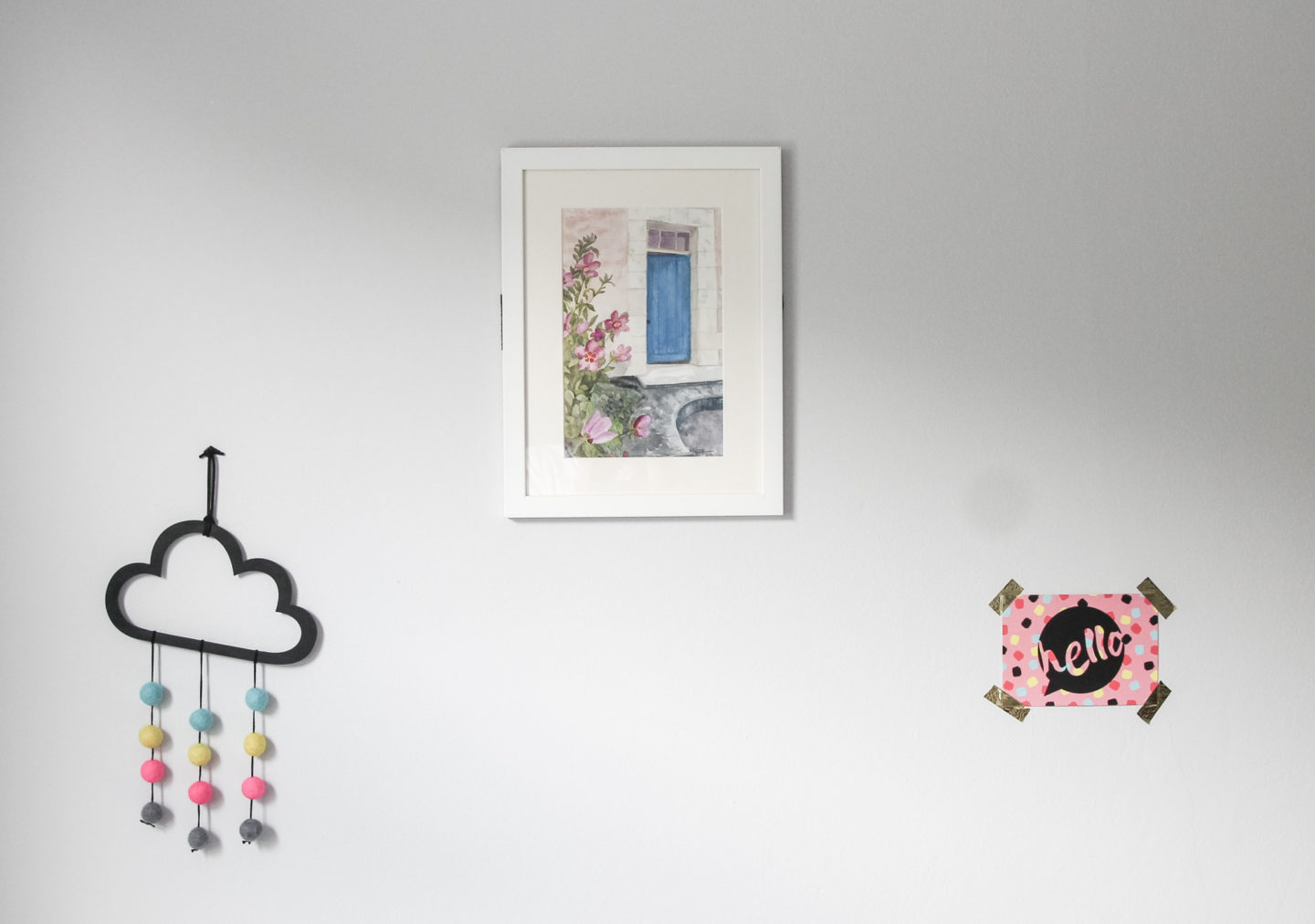 The Wall Art
Smile, Panda and the Alphabet print all come from a local company, Wall Musings. Owner Kay taught herself Adobe Illustrator after she became hospitalised with Pneumonia. She wanted do some drawings to cheer up her then 16 month son. The business has grown from there and they now do affordable, wonderful prints for every room of the house. The cloud wall hanging and felt ball garland are handcrafted by mum Laura. She's such a creative lady and let me customise them to fit the room.  I chose the felt ball colours and the colour of the cloud. Laura has an Etsy shop La Pom Pom and can be found on Instagram.
Their room is by no means finished, there are some more magic touches to add. But I was afraid this post would go on forever! Just to mention, since I took these photos we've added some wall stickers from Happy Decs and here they are. You can see I allowed Daisy her flash of pink here in this unisex nursery. One of my favourite Instagram mummies @nicolagfriend has just set up this company to provide us with totally customisable, peel off wall stickers and Daisy's response says it all, "WOW mummy".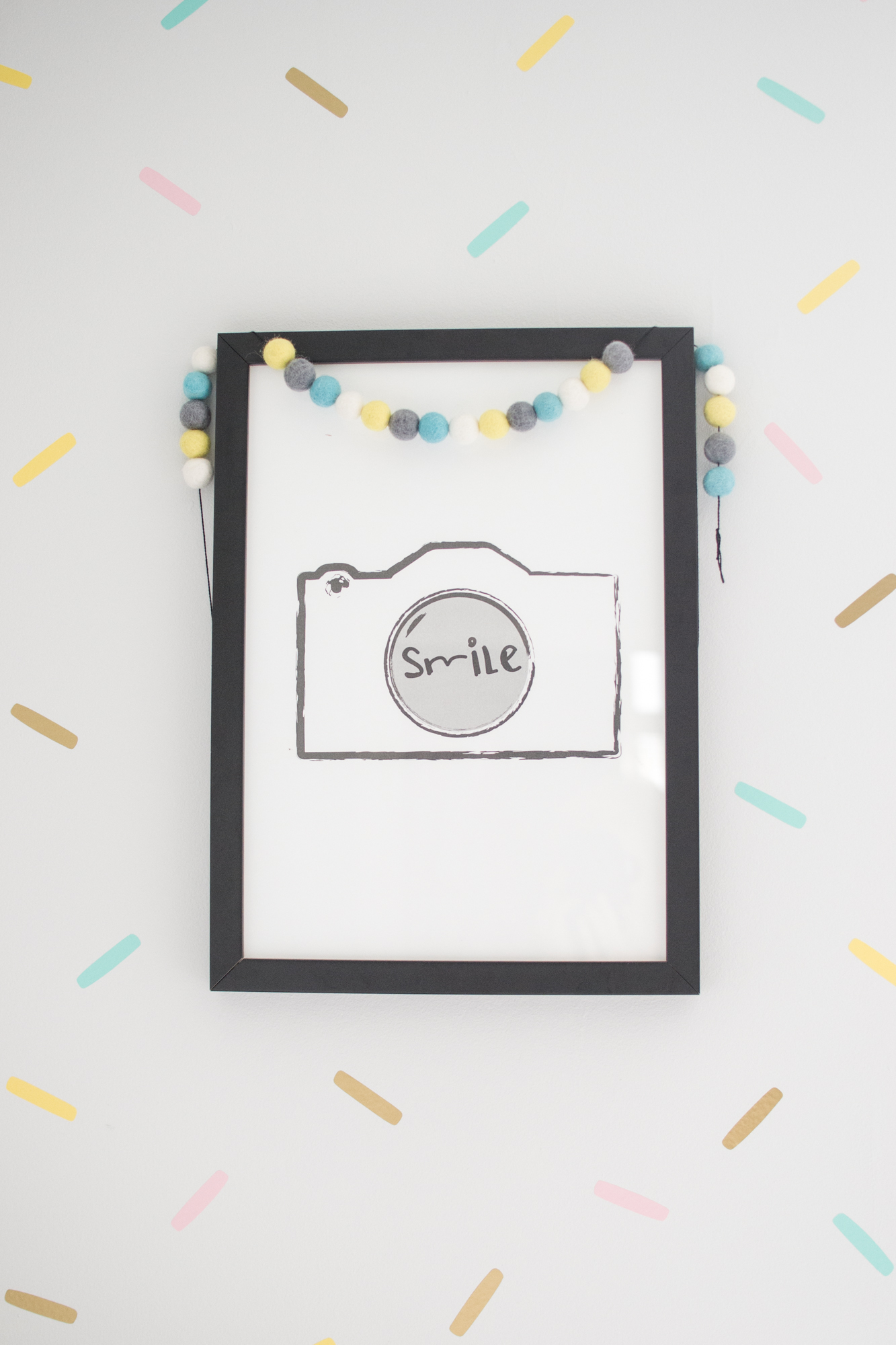 P.S. This room was cleaned and then I spent an hour tidying before I took these photos, it doesn't normally look like this!
P.P.S. I was gift all these items featured, but I chose them and all opinions are of course my own.
Shop Daisy & Laurie's Room
Lion Nursery Friend | Me & Buddy
Wild Faces Playmat | Me & Buddy
Woodland Canvas Growth Chart | Me & Buddy
5 Piece Bamboo Dinner Set | Me & Buddy
Cloud Wall Hooks with Rainbow Stickers | Me & Buddy
Babasac in Monochrome Pineapple | Me & Buddy
Little T Rex Light | Me & Buddy
Panda Star Print | Wall Musings
Alphabet Monochrome | Wall Musings
Rain Cloud Wall Hanging | La Pom Pom
Custom Felt Ball Garland | La Pom Pom